Alexander Triantis will serve as the third dean of the Johns Hopkins Carey Business School starting August 15. Triantis is currently dean of the Robert H. Smith School of Business at the University of Maryland and has built a reputation throughout his career for being a strong, personable, and pragmatic leader who is skilled at building consensus around a strategic vision.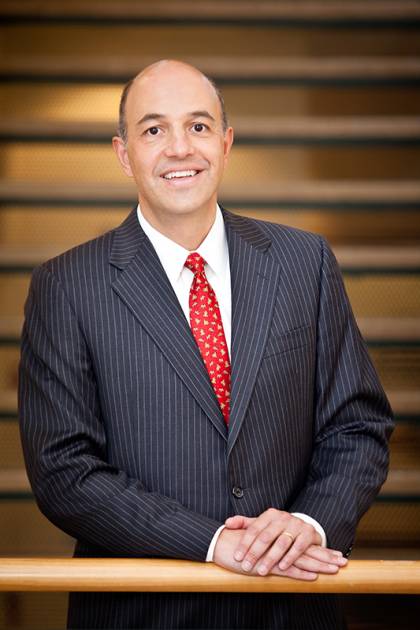 "We are delighted that Alex Triantis will be joining Johns Hopkins as the next dean of the Carey School," said Johns Hopkins President Ronald J. Daniels. "An experienced leader known for his great business acumen and exceptional commitment to collaboration, Dr. Triantis is the right person to build on Carey's great strengths, and seize new opportunities in a complex global business landscape. His experience, drive, and passion will serve our youngest school and Johns Hopkins University well in the years ahead."
During their search for a new dean for the Carey School, Daniels said that the committee sought an experienced leader and administrator who could build on the strong foundation that Dean Bernard Ferrari established and create and execute a vision for the school's important next phase of development. The Carey Business School opened in 2007 and now has more than 100 full-time faculty and more than 2,300 full- and part-time students representing more than 60 countries.
"I'm thrilled to join the Johns Hopkins Carey Business School," said Triantis. "The school is still relatively young and yet has shown significant growth. I'm excited to be a part of that growth and to be part of a great research university pursuing so many interesting and innovative initiatives."
An engineer by training, Triantis was inspired to join academia by his father, who was an economics professor. Now an expert in the areas of corporate financial strategy and valuation, Triantis is a professor of finance and served as chair of the Smith School's Finance Department from 2006-2011. He became dean of the Smith School in 2013.
He believes a strong business education for the 21st century should be modeled on a three-prong approach that includes interdisciplinary collaboration, experiential learning, and online learning. As dean of the Smith School, he promoted the development of cross-divisional research centers and initiatives focused on AI, cybersecurity, data analytics, enterprise and markets, ethics and regulation, financial and economic policy, and entrepreneurship. He also helped launch a number of new dual degree programs and several new graduate programs and certificates, including a top-ranking online MBA and in-person and online Masters of Science in Business Analytics.
He supports educational models that allow students to consider the real-world applications of their learning.
"I believe the future of education in business schools—and of course across many educational disciplines—is to establish unique and interesting opportunities for students to apply what they've learned and develop the collateral skills they need, such as working with and influencing others, creating inclusive environments, and communicating well," says Triantis. "In business, you seldom see people solving problems in a siloed environment. Allowing students to draw knowledge from different areas in an interdisciplinary fashion strengthens the learning and makes it more exciting."
Triantis received his PhD from Stanford University and BASc and MEng degrees from the University of Toronto. Prior to joining the University of Maryland's faculty in 1995, he was a visiting scholar at the MIT Sloan School of Management, and an assistant and associate professor at the University of Wisconsin.
Businessweek named Triantis an Outstanding Professor at the University of Wisconsin and the University of Maryland, and he is a two-time recipient of the Smith School's top teaching award for faculty.
He has published articles in numerous prestigious academic journals and consulted and led trainings in the areas of corporate finance and valuation for multinational corporations and other large institutions. He has served as a committee member and as vice president for global services for the Financial Management Association International and in July he will begin a three-year term on the board of directors for the Association to Advance Collegiate Schools of Business, a leading global accreditation association of business schools.
He is also a Blue Jay parent. His daughter, Sophia, is a rising junior in the Whiting School of Engineering.
Triantis says he looks forward to learning about the culture and organization of the Carey Business School and developing a plan to build on the school's success under Ferrari, who was recently named dean emeritus. Under Ferrari's leadership, the school launched new full-time academic programs, increased its faculty, and added eight endowed faculty positions. In 2017, the school earned accreditation from the AACSB, considered a "hallmark of excellence" in business education.
Valerie Suslow, vice dean for faculty and research at the Carey Business School, will serve as interim dean until Triantis assumes the role in August.