Minutes before participating in the annual Baltimore Pride parade on Saturday, Johns Hopkins University junior Brice Graham Hendrickson carefully painted a rainbow flag on classmate Smitha Mahesh.
Both were taking part in their first Pride parade in their hometown, eager to join hundreds of other Johns Hopkins students, staff, faculty, and alumni representing the university and health system in the annual event. For 44 years, Baltimore Pride has celebrated the LGBTQIA+ community with a parade of thousands, a festival at Druid Hill Park, and other events throughout the city.
Marchers gathered outside of the university's LGBTQ Life office on Charles Street, near the beginning of the parade route. The courtyard was decorated with rainbow balloons, chalk artwork, selfie stations, and rows of transgender pride flags lining the walkway. This year, members of the Hopkins contingent reprised its popular rainbow scrubs. The group also had a decorated Blue Jay Shuttle and a small tricycle-powered float.
This was Mahesh's first Pride celebration in Baltimore, she said, but noted that it's important to her to attend no matter where she finds herself each June. Her first experience with Pride came while she was on vacation in Rome, and after that experience she decided she never wanted to miss it again.
"I had always wanted to go, but I told myself I didn't have the time, or I was too scared, or this and that," Mahesh said. "But I've found it to be such a rejuvenating energy to be happy, prideful, and full of peace, love, and energy."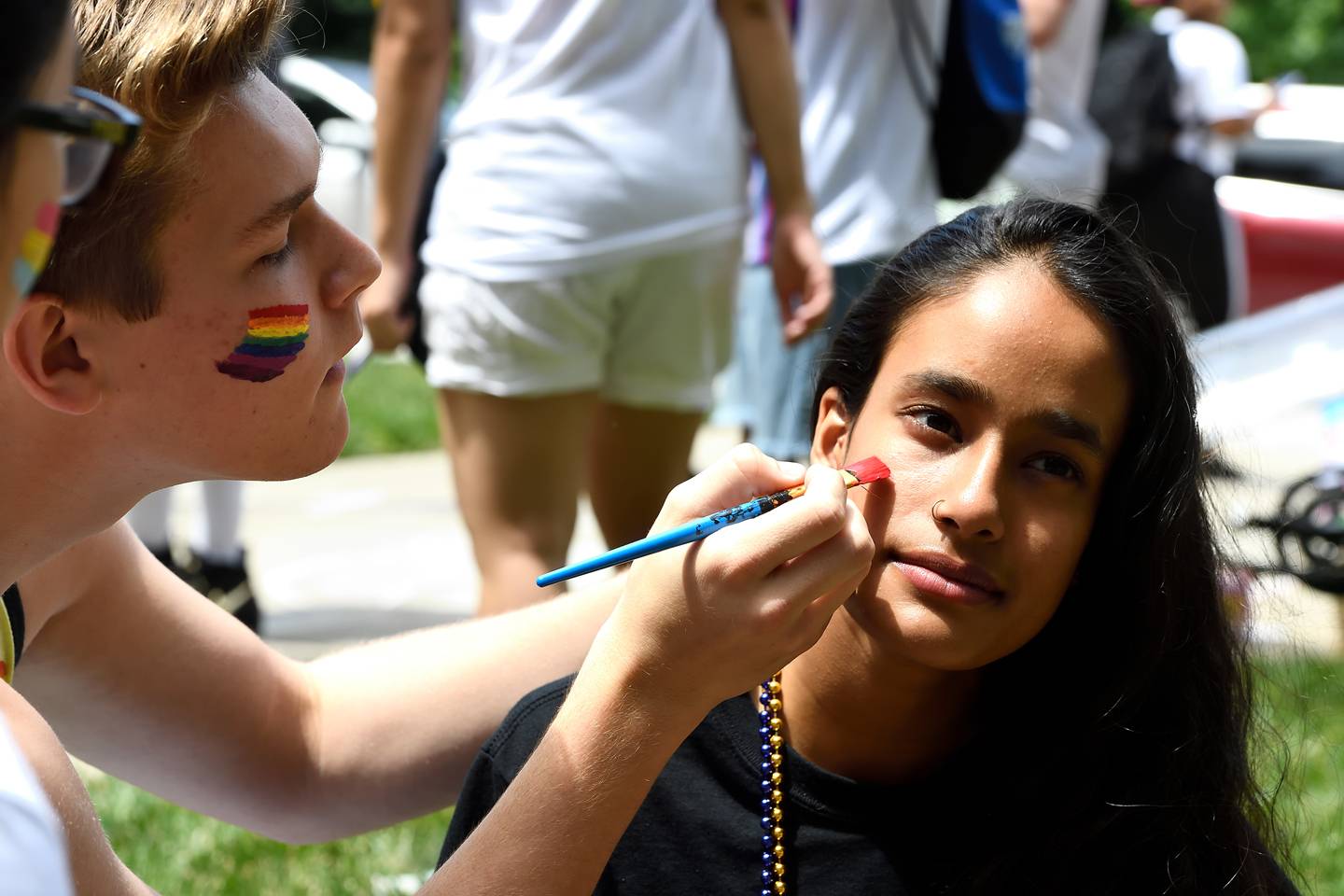 Hopkins nurse Alex Gineitis and his husband, Sam Giunta, celebrated the event by dyeing their beards with rainbow glitter. They said that because this was their first Pride as a married couple, they wanted to do a little something extra to commemorate it.
"We like to be connected with our community," Gineitis said. "You see people you haven't seen in an entire year. It's all about reuniting with friends and celebrating unity and pride together."
Pride is also a chance to acknowledge and challenge the discrimination and bigotry that continues to affect the LGBTQIA+ community, said Elizabeth Milligan, a Peabody Institute graduate. She said that Pride is inherently political and offers an opportunity to advocate for the community.
"Pride is an important chance to be obstreperously visible and supportive of the community, regardless of whether things are going politically well for us or not," Milligan said. "But beyond that, it's just a chance to celebrate who we are. When else do we get to run around with rainbow flags?"