For their first big project at Johns Hopkins, mechanical engineering students are expected to get creative, collaborative—and competitive.
Each fall, students enrolled in the Intro to MechE Design and CAD course put their design skills to the test in the annual rite of passage known as the MechE Freshmen Design Competition.
This year's battle took place last week in the Glass Pavilion, where 64 students were challenged to use wood boards, acrylic sheets, and other miscellaneous supplies valued at $20 or less to design and build a device that could propel a vehicle up and over a ramp before rolling 50 feet and coming to a stop. No motors could be involved: power was provided by a five-pound weight-and-pulley system that, when released, generated a fixed amount of rotational energy.
"This is their first real hands-on design challenge at Hopkins, and it's an opportunity to take what they learn in the classroom and apply it to a true open-ended problem."
Steven Marra
Associate teaching professor
The challenge was designed by Steven Marra, associate teaching professor in the Department of Mechanical Engineering, the course instructor and mastermind of the annual competition. During the course students learn the basics of gears and springs, materials selection, manufacturing, mechanical failure, and the design-build-test-repeat process used by engineers, Marra said.
"This is their first real hands-on design challenge at Hopkins, and it's an opportunity to take what they learn in the classroom and apply it to a true open-ended problem," Marra said. "I was very impressed by the creative and diverse ideas the students came up with to solve it."
Teams competed in head-to-head bouts to see which vehicle would get the farthest, and two of the original 22 teams squared off in the final match.
Team Marra's Apostles (an homage to the instructor)—made up of Joe Somerville, Dexter Amata, and Sebastian Cabrejos—outperformed opponents all afternoon with a sophisticated rubber-band-and-string crawling vehicle that included axle bearings scavenged from a fidget spinner.
"The engineering design process we followed was much more rigorous than anything I've done before, and the result was better than anything I've made in the past," Somerville said.
The other finalist, Team Tokyo Drift—Jaret Prothro, Jaykob Cave-Stevens, and Sean Laidlaw—used a drop-tower-and-track approach that gave them one close win after another.
"We kept it simple and only used 'old-fashioned' hand-fabrication techniques, instead of 3D printing or laser-cutting parts, so we were able to adjust our design quickly," Laidlaw said.
When the final weights were released, a loose connection on Marra's Apostles' device prevented it from working, and Tokyo Drift soared off the ramp to victory. Based on the crowd's reaction, it was a surprising upset.
Winning team members each received a Barnes & Noble gift card. However, the day after the competition, members of Tokyo Drift asked Marra to give their first-place prizes to their championship round opponents.
"They told me Marra's Apostles really should have won and said something about 'game recognizing game,'" Marra said. "I'm not sure what that means exactly, but I think it shows the respect and collegiality our students have for each other."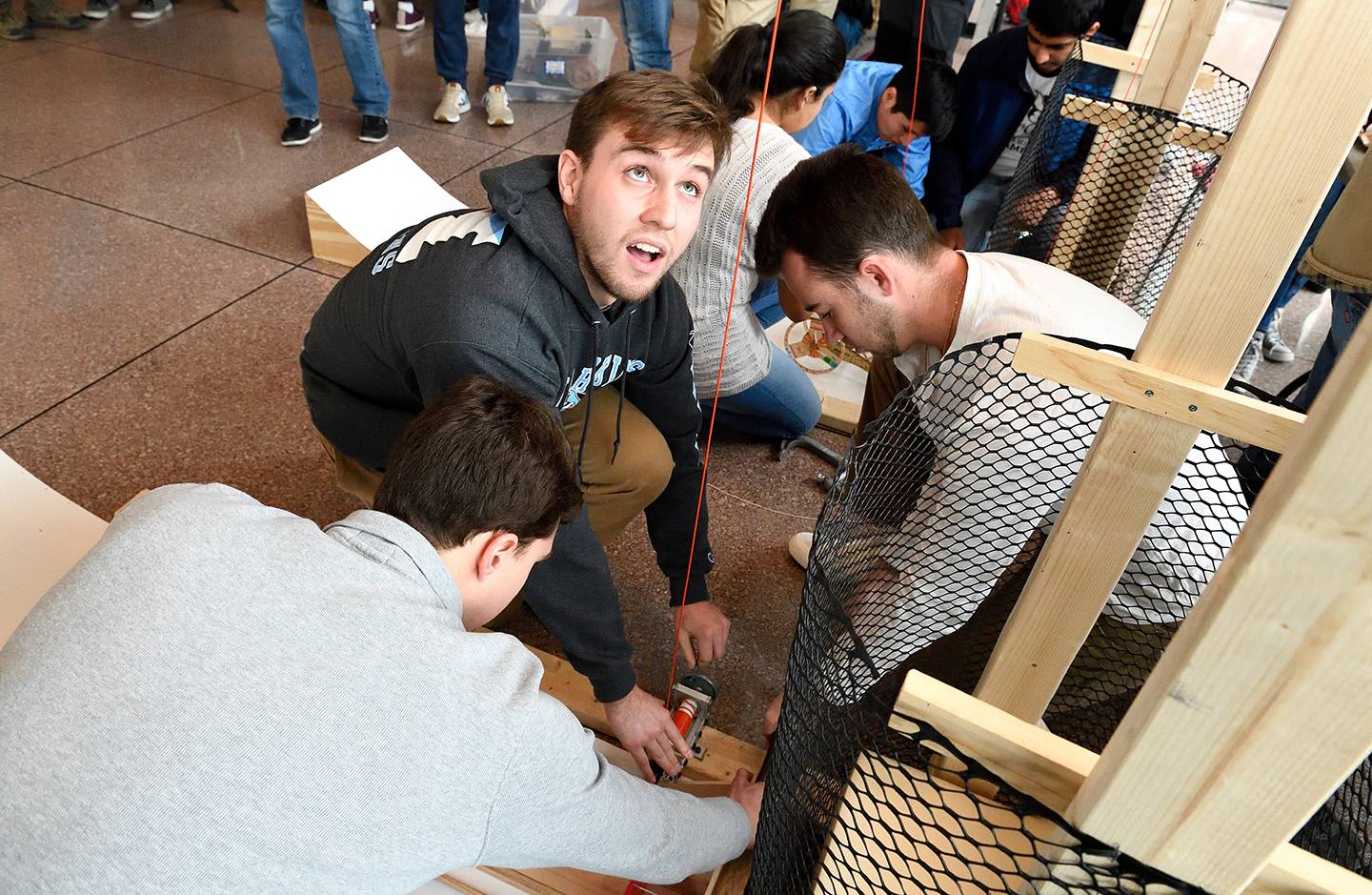 Marra's sentiments were echoed by first-year student Sara Pardee from Team BLC3.
"This project helped me learn how to work through problems with my teammates," Pardee said. "I got closer to the people on my team, and it was fun to interact and share the workspace with other teams. Even though it was a competition, all the teams were bouncing ideas off each other."
Marra said he already has another design challenge in the works for these young engineers, though the details are still under wraps.
"Let's just say the spring project will be something the whole university should enjoy," he said.