Johns Hopkins University is proposing a location next to the Wyman Park building on the Homewood campus for its new institute dedicated to improving civic engagement and public discourse.
The Stavros Niarchos Foundation Agora Institute at Johns Hopkins was established last year with a $150 million gift. It will serve as an academic and public forum dedicated to strengthening democracy by examining polarization and developing and testing new ways to support the open exchange of ideas. The gift included funds for a new building that will offer space for research, reflection, collaboration, and public engagement tailored to the institute's mission.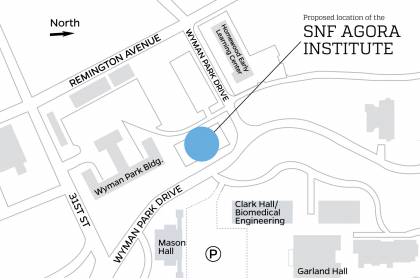 In September the university announced that world-renowned architect Renzo Piano agreed to design the building in partnership with Baltimore-based firm Ayers Saint Gross. Shortly after, Piano spoke at an event on campus where he shared his philosophy and gathered ideas from the university community.
The university has proposed the northeast corner of the Wyman Park property—near where Wyman Park Drive meets San Martin Drive—as a location that provides visibility for the institute, proximity for students and faculty, and ease of access for the community to attend events and other program offerings. There is parking at the university's South Garage across the street.
The work of Renzo Piano
This proposal begins the process for eventual construction of the building. Among the next steps is to share information and seek input with the university community and its neighbors. A first meeting is planned for next week with neighborhood groups. More opportunities for engagement will follow when students return to campus for the spring semester. The university will also be working with the city on various planning, permitting, and development requirements.
"We are excited to continue moving the important work of this institute forward, including the design and construction of what we hope will become an architectural icon in our city," says Elizabeth Smyth, adviser to the president on the SNF Agora Institute. "At a time of increasing division in the U.S. and around the world, the mission of the SNF Agora Institute is especially urgent, and we are fortunate to be able to do this important scholarly and societal work here in Baltimore.
"We look forward to working on this project with our university and neighborhood communities."