The first time Lizzie Crespi and Will Wisner-Carlson stepped into Carmine Garden, a thicket of weeds tumbled out of the garden plots.
It was 2016 and Crespi, then a junior at Johns Hopkins University, and Wisner-Carlson, a senior, had arrived at the garden with scores of other students as part of President's Day of Service.
Although neither had much expertise in gardening, Crespi and Wisner-Carlson were intrigued by the plot of land in Franklintown, on the western border of Baltimore City. The garden, once the pride of the neighborhood, was covered by trash and overgrown plants.
"This isn't just a one day thing. This is the first step for further engagement."
Will Wisner-Carlson
Johns Hopkins Class of 2017
"Fifteen years ago, it was winning all sorts of awards for community gardens, but it had fallen into disrepair," Wisner-Carlson says.
Today, Crespi and Wisner-Carlson serve as volunteer co-managers of the garden and have established deep ties to the surrounding West Baltimore neighborhood. And Crespi, who had rarely picked up a shovel before, now works for the Farm Alliance of Baltimore, a group representing 16 small farms.
Crespi and Wisner-Carlson's story highlights the potential impact of the President's Day of Service. The annual event, which celebrates its 10th year this weekend, invites students to spend a day early in the academic year giving back to Baltimore. The tradition was started by JHU President Ronald J. Daniels in 2009.
Nearly 1,000 students have committed to spending Saturday working alongside community partners. The focus, current students and alumni said, is not on the day itself, but on finding opportunities to make a deeper commitment to the community.
"This isn't just a one day thing," said Wisner-Carlson, who graduated in 2017. "This is the first step for further engagement. You can interact with someone from a community association and make a deeper connection."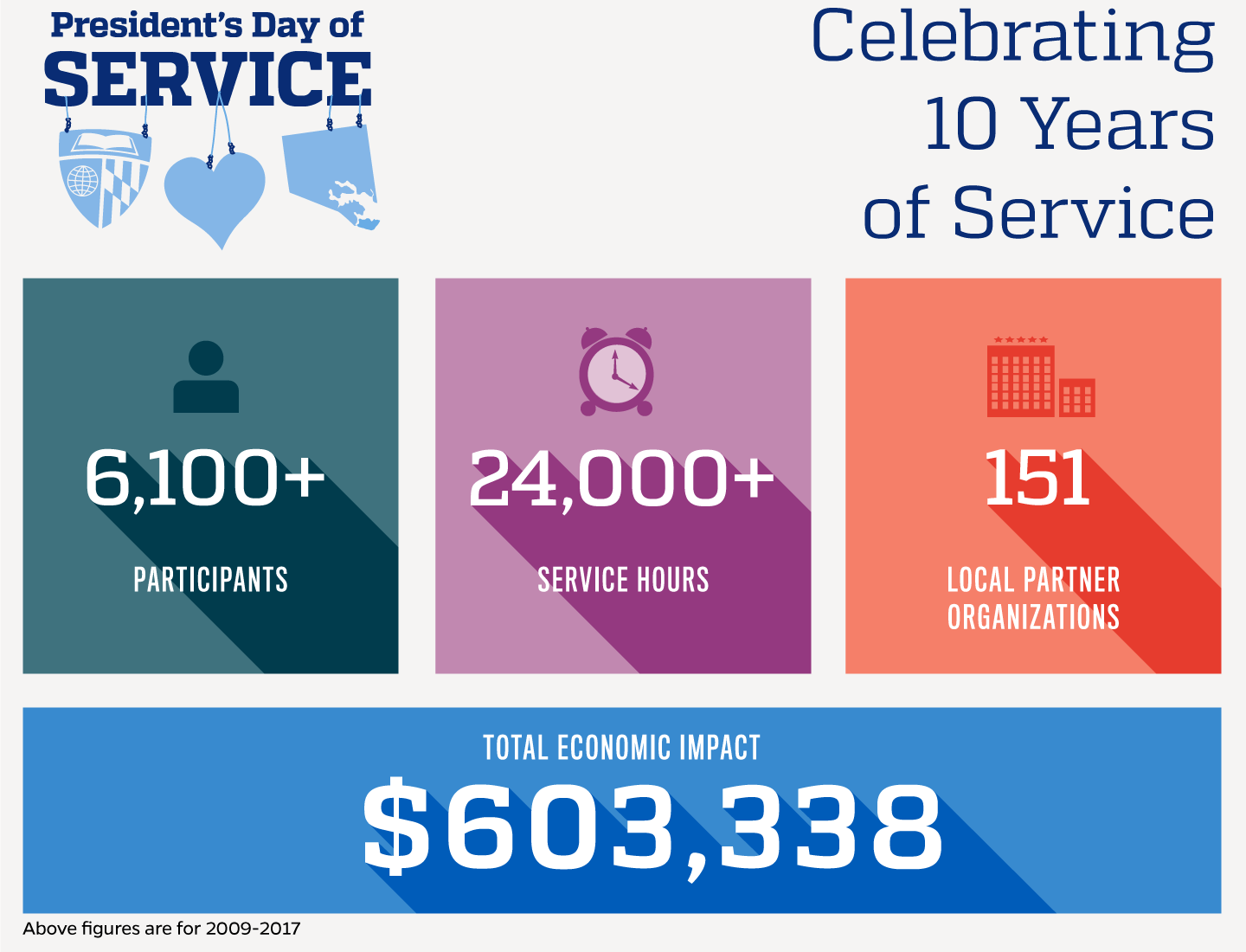 This year, students will fan out to some 35 sites around the region to work with nonprofits and community groups, said Nicole Duran, a senior who is helping to organize the day. Most of the projects involve manual labor—painting or hauling trash or pulling weeds. In just a few hours, a group of several dozen students can finish a project that might take a small community group weeks or months for to finish on its own.
Most importantly, the day shows students ways in which they can get more involved in the city.
"It allows them to really see what Baltimore is," Duran said. "Students will be building relationships with community leaders in Baltimore. It really integrates Hopkins back into the community."
Duran, a molecular and cellular biology major who serves as an intern for the Center for Social Concern, is planning a series of reflections to end the day.
"We want to change how we perceive community service, or any service in general," she said. "What have I done? How does it matter?"
For Crespi and Wisner-Carlson, that first visit to Carmine Garden as part of the President's Day of Service was life-changing. The couple, who have been dating for nearly two years, were already committed to volunteering when they first came to the garden. They had served as vice presidents of Alpha Phi Omega, a national co-ed service fraternity, then decided they wanted to focus even more intently on the surrounding community. In 2016, they founded Baltimore First, a Hopkins student organization that organizes recurring service projects for undergrads.
Crespi and Wisner-Carlson began attending a "Croppy Hour" at Real Food Farm, one of Baltimore's well-established urban farms, where they watered, mulched, weeded, and helped with other tasks. Both Crespi, a public health major, and Wisner-Carlson, a philosophy major, did a stint as an Americorps volunteer at Real Food Farm after graduating. Crespi also worked at Baltimore's Food System Lab, an aquaponics farm and teaching center located at Cylburn Arboretum.
At Carmine Garden, the pair works closely with volunteers from the surrounding neighborhood. About five neighbors tend plots, and Wisner-Carlson and Crespi nurture a small farm for the benefit of residents, growing tomatoes, cucumbers, kale, collard greens, beets, and other vegetables.
"People stop by to pick produce and thank us," Crespi said. "We do our best to grow food they'll like."
The couple has grown close to some of the residents over the years. Many older neighbors stop by to share memories of long-ago childhoods spent on farms, Wisner-Carlson said.
This, ultimately, is the goal of the President's Day of Service, Duran says—to more fully integrate the Hopkins community with the rest of the city, breaking down barriers and making new connections.
"We want to show students that this is some of the great work happening here," she said, "and here is how you can help."