Last month, more than 300 students, families, staff, and community members poured onto the recreation field at the Henderson-Hopkins school to celebrate the end of another successful academic year.
Henderson-Hopkins Family Fun Day—the first event of its kind at the school—was packed with activities including field-day games, sack races, student performances, arts and crafts, and the eminently popular water-balloon toss. Planned by the school's PTA, the day was a special opportunity for the community to come together, celebrate the start of summer break, and unite in support of the many triumphs that have taken place at Henderson-Hopkins over the past academic year.
"The PTA had been discussing a big family/school/community celebration for months," recounted Julie Brunelle, parent and Henderson-Hopkins PTA secretary. "We set aside fundraiser money and received many generous donations to make Saturday's event a reality. It filled my heart with joy to thank our Henderson-Hopkins staff and teachers, students and families, and community groups for being there to build our community together."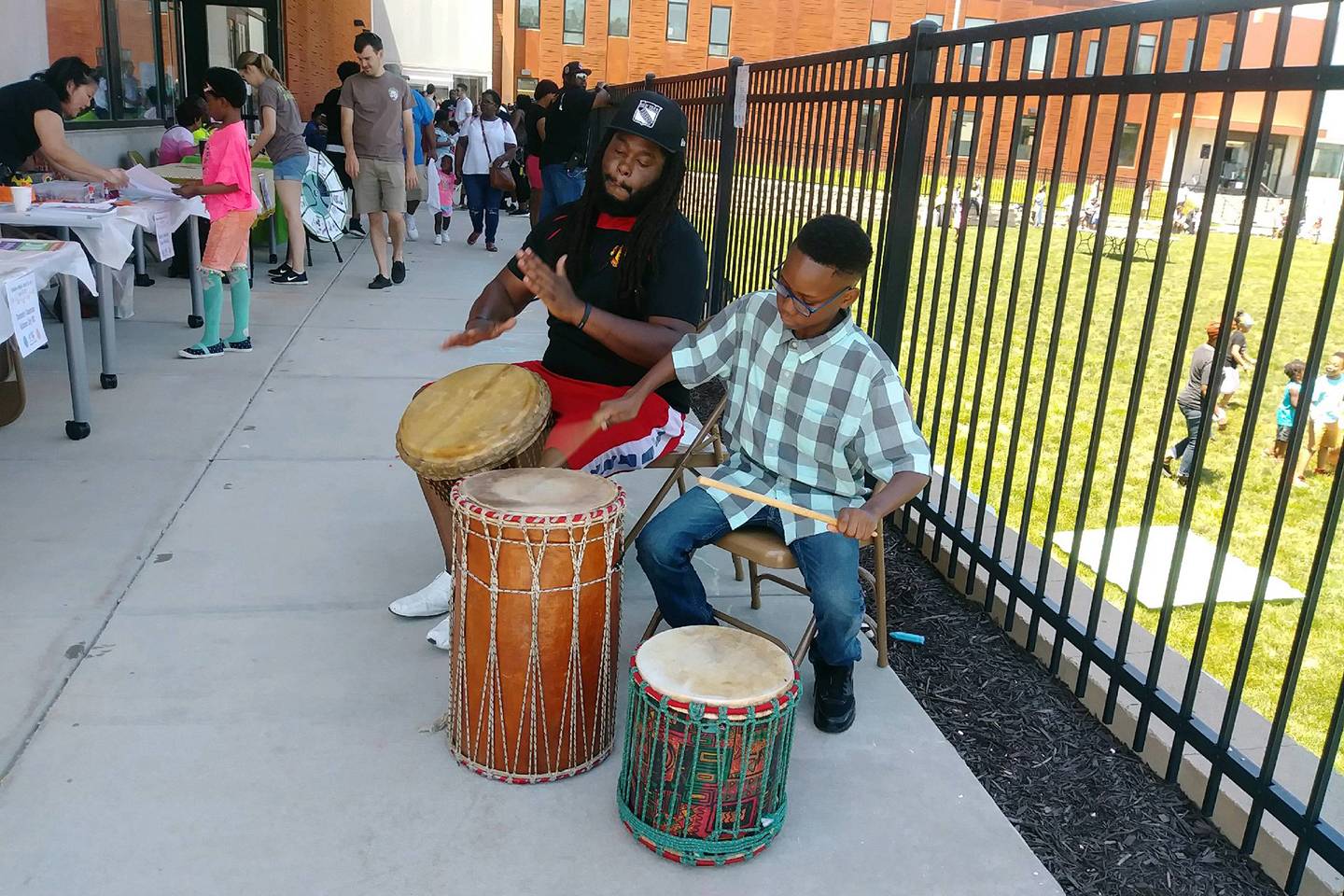 The Henderson-Hopkins school is a contract school of the Baltimore City Public Schools System that opened in 2014. Operated by the Johns Hopkins University School of Education in partnership with Morgan State University's School of Education and Urban Studies, it is the first new school to have been built in East Baltimore in more than 20 years and marks Johns Hopkins University's first foray into university-assisted community school partnerships.
Henderson-Hopkins, which was recently named Maryland's most beautiful school by Insider magazine, aims to take a holistic approach to developing each student and to foster a diverse community of students, families, and teachers. The curriculum emphasizes the crucial role of family and community involvement in education.
Parents at the Family Fun Day appreciated the opportunity to visit the school for the celebration and to see the variety of activities available to the students.
"There was an abundance of activities present for my daughter, who loves arts and crafts," said community member Devon Nwaba. "She made a bracelet, designed a face mask, and created a bag out of a T-shirt. She's an avid reader and was thrilled to select free books to add to her library, as well."
Parents also hailed the event's success in convening so many members of the community. "The goal was to pull community, family, and school together, and without a doubt that was achieved," said PTA member Christine Alestock.
While adults were connecting with fellow parents, school staff, and community members, students were having a blast with wide-ranging activities on the field and in the gym. Students even had the chance to play basketball with Loyola University basketball coach and former NBA player Keith Booth, who is an active Henderson-Hopkins supporter and community member.
"I liked it because we played football, volleyball, and had a cookout with hotdogs," said Jeremiah, a first-grader at the school.
Baltimore City Councilwoman Shannon Sneed, also in attendance, summed up the energy of the day: "It was so good to see the gates open and children and parents pouring in from all over the neighborhood to play games on the field, paint, and find out information about different programs to keep our children engaged while learning at the same time. They can change anything."