Her work saves the lives of newborn babies around the world every day. Now, Google is giving her some well-earned recognition.
Virginia Apgar, a Johns Hopkins-trained researcher and maternal and child health advocate, is featured in today's Google doodle, a playful animation that honors Apgar on what would be her 109th birthday.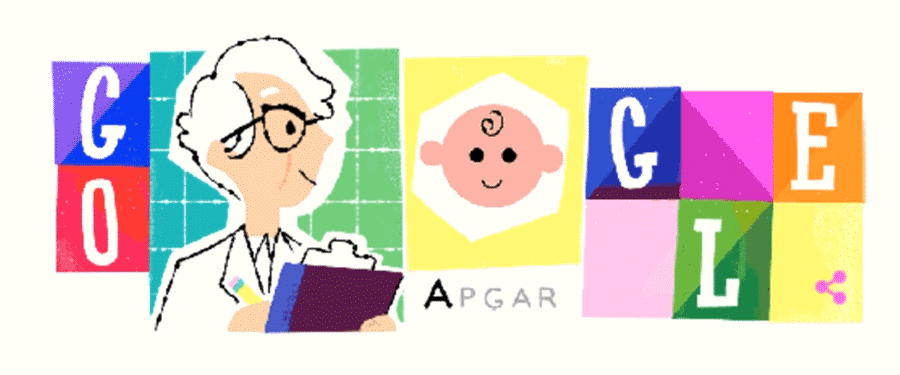 Apgar developed the Apgar Score, an assessment tool that doctors use to determine which newborn babies are in need of immediate emergency attention. The score assesses five key health metrics: heart rate, respiration, muscle tone, reflex response, and color.
"[The Apgar Score] was a huge public health breakthrough," Rachel Swaby, author of Headstrong: 52 Women who Changed Science-and the World, told CNN in 2015. "Virginia Apgar had such amazing energy and such an energetic mind."
Born in New Jersey in 1909, Apgar studied zoology at Mount Holyoke College, graduating in 1929. That year, she was one of only four women accepted to the Columbia University College of Physicians and Surgeons, where she graduated fourth in her class in 1933.
She then trained at the nation's first department of anesthesia at the University of Wisconsin–Madison and interned at Bellevue Hospital in New York. Before she turned 30, she had founded the Division of Anesthesia at Columbia University. She would go on to become the first female full professor at the Columbia University College of Physicians and Surgeons.
Her research focused on obstetrical anesthesia and the effects on newborns of anesthetics given to expectant mothers during labor, and she developed the Apgar Score in 1952.
After receiving her master's degree in public health from Johns Hopkins University in 1959, she expanded her research from anesthesia to genetics and the prevention of birth defects. Through her work, she raised awareness of birth defects as a national health problem through public education and fundraising for research efforts. She also directed the congenital defects division at the National Foundation for Infantile Paralysis, now the March of Dimes Foundation.
Apgar died in 1974 after a lifetime devoted to health research and practice. She was known for saying of her newborn patients, "Nobody, but nobody, is going to stop breathing on me!"
She is one of 23 women honored in the Women of Hopkins exhibit, which recognizes 23 female trailblazers who have made a mark on society during or after their time at Johns Hopkins. The exhibit, launched in 2016, is on display at the Mattin Center on JHU's Homewood campus and also available online.