In the late 1960s, a group of doctors at Roswell Park Comprehensive Cancer Center decided they were going to do something about acute lymphoblastic leukemia in children. At the time, a childhood leukemia was a death sentence, as roughly 90 percent of patients died with a year of diagnosis. Prominent doctors such as Donald Pinkel, Lucius Sinks, Jerry Yates, and James Holland—who the New York Times called a "founding father of chemotherapy" in the obituary following his passing in March—as well as nursing staffs experimented with pharmaceutical regimens, radiation therapies, and germ-free hospital rooms, and butted heads with their peers at the National Cancer Institute in their efforts to cure a disease nobody thought could be.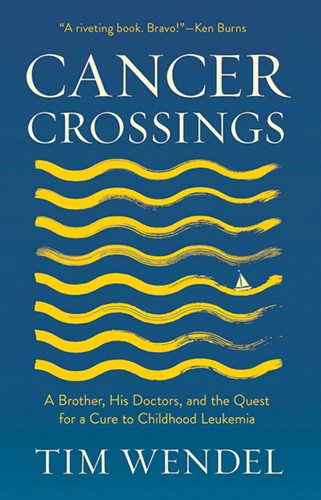 Growing up in Olcott, N.Y., on the shores of Lake Ontario north of Buffalo, author Tim Wendel, the Writer in Residence for the MA in Writing Program, had a ringside seat to this renegade medical science, though he didn't know it at the time. His young brother, Eric, was diagnosed with ALL at the age of three in 1966, and entered treatment at Roswell Park, becoming patient No. 117406 in study No. 6601.
In Cancer Crossings: A Brother, His Doctors and the Quest for a Cure to Childhood Leukemia (Cornell University Press), Wendel gorgeously and movingly braids his family's experiences of Eric's treatments with the doctors' efforts to push kids into remission and prevent relapses for months, then years. Although Eric passed away in 1973, the advances in ALL treatments pioneered by the Roswell Park team completely changed the outlook for kids with ALL. In the book, Wendel quotes from a report that followed up with patients from one of the Roswell Park studies. When his brother was first diagnosed, nine out of 10 patients died within a year. This paper noted that by 2010, "one in 250 adults between the age of 20 and 45 in the United States will be a survivor of childhood cancer"—a huge increase. Today, the St. Jude's Research Hospital, whose leukemia research center was started by one of the Roswell Park doctors, reports that 90 percent of children with ALL can be effectively cured after spending 10 years in remission.
Throughout Cancer Crossings, Wendel weaves into the narrative stories of family sailing trips, recalling time spent aboard a series of boats—a Penguin dinghy, a 24-foot Shark, a Cal 27, a Cal 3-30, and others—that they'd take onto the Erie Canal or cross Lake Ontario to Toronto. These outings initially feel like intimate family snapshots, but through Wendel's storytelling they become poignantly thematic interludes that bind tales of childhood illness and medical research together.
Wendel appears in conversation with author Mary Kay Zuravleff, at Politics and Prose bookstore in Washington, D.C., Sunday, April, 22 at 1 p.m., and at the Bards Alley bookstore in Vienna, Virginia, May 9 at 7 p.m.
The Hub caught up with Wendel to talk about writing about his family, learning the ins and out of cancer research, and what he finds compelling about teams.
You're compactly telling a number of interrelated but distinct, nested stories in Cancer Crossings—a story of your family, a story of your brother Eric, a story of how Eric's illness and treatment fit into an era of experimental childhood leukemia research, and the stories of the doctors who conducted that research. Did you quite understand the breadth of storytelling you were asking of yourself when you started this project, or did the reporting and research bring all those storylines into focus?
If I had known what I was getting into at the beginning—the shifts in narrative between parallel stories, asking difficult questions of family members—I may have thought twice about writing Cancer Crossings. That said, I felt it was important that this incredible group of doctors and nurses, who took acute lymphoblastic leukemia from a death sentence in the mid-1960s to a remission rate of 90 percent today, really needed to be told. Also, as I got into the storytelling I realized what heroes my parents were, and that's a good thing for any child to know.
Did you know your family's sailing stories, and sailing as a narrative leitmotif, was going to be part of the book? Or did that emerge through the reporting and writing process?
Much of it emerged during the three years in writing Cancer Crossings. Then it began to dawn on me—I can be a bit dense sometimes—what a great metaphor or symbol or whatever this was, not only for my family, but the doctors, too. How they had to cross from one way of seeing medical procedures and practices to another outlook—another shoreline so to speak—to find a cure. So much of my family's activity centered on bodies of water during what I know call "the leukemia years." We skated on ponds in the winter and sailed across Lake Ontario, that great inland sea, in the summers. So, such scenes were going to be a part of the book. The question you sometimes face as a writer is how do you make it symbolize something larger? Something that will resonate with more people?
Medical history can be elusive to ferret out, especially if you're needing to learn some of the science behind the research so that you can write about it for a general reader. How was it, for you, moving from, say, researching baseball stats to researching and understanding the finer points of clinical drug trials, combination therapies, and radiation treatments?
I was lost in the tall grass of medical terms and procedures and clinical trials for a long stretch at first. Admittedly, I was in way over my head. But the doctors and nurses helped me out so much. Most of them were in their 80s and even 90s when I began to reach out to them and it's like they realized that this story was going to vanish, at least in part, when they passed on. They were so patient with me. It's funny we just finished the audio book for Cancer Crossings and I was the voice. I'm really proud about that. To do a good enough job that a major distributor, Blackstone in this case, keeps you on as the guy at the mic. But we had to go into the studio one last time a few weeks ago because I needed to repronounce many of the meds and terms—methotrexate, daunomycin, cytoxan, lomustine, etc. I had messed up too many of them the first time through. I'll never forget how to say them now, which is a good thing I suppose.
As an adult and father yourself now, did revisiting your adolescence change the way you thought about or understood that time period in your family's life?
Also see
I showed one of the early drafts to Gary Brozek, who had been my editor with my novel Castro's Curveball for Random House. (Curveball was a major part of my thesis in the MA Writing program in the late 1990s.) One of the key questions he asked was, "How did losing a brother influence you as a parent?" That took awhile for me to wrap my mind around, but I'm glad I did. In looking back on the years my brother Eric was sick, I regretted not asking enough questions, really figuring out what was at stake like my sister Susan did. But in writing Cancer Crossings, I realized I did OK, especially for a kid who was barely 17 years old when Eric died. Sure, I could have done better on many fronts, but my family seized the moment, squeezed as much as we could into every day. That's something worth learning the value of again.
Most of us only experience medicine from the patient side. You took a peek behind the research curtain, and you have a unique, personal perspective about how that the state of knowledge about childhood leukemia radically changed during your lifetime. What has working on this book taught you about how science and medicine works?
Doctors can act so matter-of-fact sometimes, and I suppose they need to with as many patients they need to see these days, how much hinges upon their insights and decisions. But they are as human as the rest of us. That's been become even more apparent to me as I've gotten to know more doctors inside and outside my family. I guess it helps that my daughter is now a resident in emergency medicine. She's the one who gave me the idea to do this book.
These leukemia doctors were as rough and tough as anyone. They weren't nicknamed the "cancer cowboys" for nothing. Yet, in their own way, they were very mindful, very zen. They would counsel caution even after the best clinical trial, where a lot of kids went into remission. Conversely, they could find that sliver of hope and optimism after another trial would appear to be so devastating. I meditate when I can and my mindfulness teacher sometimes says, "Find the white dot in a sea of black, find black dot in that field of white." That means nothing, absolutely nothing, is all black or all white. These cancer doctors practiced that approach day to day as well as anyone I've ever met.
Early on in the book you mention that Cancer Crossings is a bit of a departure for you, being that it's focused on medicine instead of sports. You add, however, that you do like to write about teams overcoming obstacles and beating the odds—whether that be the 1968 Detroit Tigers, the 1991 Minnesota Twins and Atlanta Braves, or the 1980 U.S. Olympic hockey team—and the doctors at Roswell Park in Buffalo certainly qualify as group of people trying to do something that nobody thinks they can. What do you think draws you to such stories of underdog teamwork?
I've always been intrigued with how successful groups and teams work, especially when they are made up of such different personalities and viewpoints. And then when they can overcome great odds? Well, I cannot think of anything more hopeful than when you hear the tale of a resilient group and how they carried the day.
I think it was F. Scott Fitzgerald who said writers and artists are drawn to particular stories or themes. How they are part of our DNA and we have no choice but to keep returning to them. It's our way of trying to bring order to chaos of the world, I suppose.
Howard Mansfield, another dear friend and a terrific writer, pointed out early on that I was doing it again, that I was writing about another group of underdogs trying to carry the day against great odds. That the only real difference was this time I was focusing on an elite group of doctors at just a few hospitals who dared to take on this shapeshifter of a disease. When he told me that I remember thinking to myself, "OK, I can do this."