More than two dozen members of the Girl Scouts of Central Maryland came to Johns Hopkins University's Homewood campus Saturday to design and build miniature roller coasters out of cardboard boxes, pipe insulation tubing, cups, tape, and other household materials—and to learn about the field of engineering along the way.
The elementary- and middle-school-age Girl Scouts were challenged to construct 5-foot roller coasters that incorporated as many "thrill" elements as possible—tunnels, hills, banked curves, vertical loops, helixes, in-line twists—and then to transport marbles through the contraptions.
Sridevi Sarma, associate professor of biomedical engineering and associate director of the Institute for Computational Medicine, hosted the event as part of L'Oréal USA's Changing the Face of STEM Mentoring Grant, which she received in September.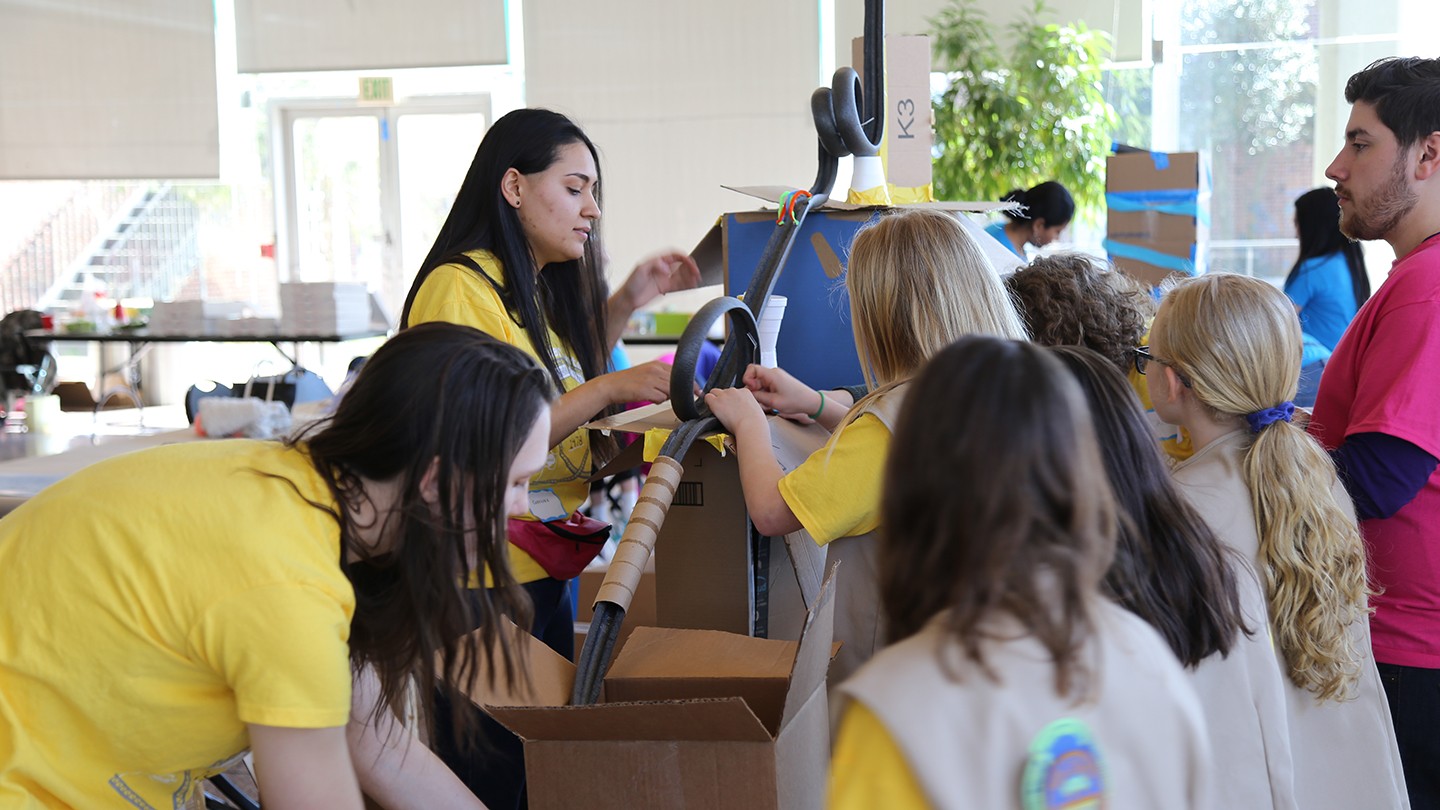 "We want to introduce these young girls to science and engineering in a way that will keep them engaged," Sarma said. "We're taking the concept of energy and breaking it down into basic ideas that they will understand, and we're reinforcing those concepts through the process of building a roller coaster."
To ensure the event stayed on track, nine female Johns Hopkins engineering students guided the girls through the design process from brainstorming to realization. Each team, organized by troop number, worked within an allotted timeframe to build the fastest and most creative coaster.
"We're working as a team and having fun, all while learning how to be an engineer and build things," said Malai Bowman from Troop 736.
After lunch, the scouts finalized their designs and presented them to the panel of judges, which included Sarma; Warren Grayson, associate professor of biomedical engineering; Mariam Erickson, a representative from the ARCS Foundation; and Macauley Breault, a Johns Hopkins PhD candidate.
Three troops of @girlscouts are at @JohnsHopkins today building roller coasters and playing brain games. This activity requires patience and a steady hand! pic.twitter.com/cNrXCnkZwV

— Johns Hopkins BME (@JHUBME) March 24, 2018
Judges took into account design criteria, presentation, creativity, quality, teamwork, and the time it took the marble to travel the length of the roller coaster.
"We had a lot of fun, but the loops were hard to make," said Julia Kozlowski, from Girl Scout Troop 5394. "We learned about the force that keeps the marble from falling off the track when it's traveling through the loop."
In the end, the judges determined that Troop 2478 built the most impressive roller coaster, earning members tickets to Six Flags America outside Washington, D.C.
In addition to the roller coaster contest, troop members played a series of brain games. In one, they learned to work together to build a pyramid of paper cups using six strings attached to a single rubber band. Each member pulled their string to expand the rubber band around a cup and then worked to delicately place the cup in the correct position.
The girls also had the opportunity to ask mentors about their career paths, education, and job duties. The mentors not only discussed what it's like to be an engineer and the opportunities available in STEM, but also offered some advice for the future.
"These kids typically have their cell phones all day, and today, we asked them to leave it behind for six hours. And they're having fun!" Sarma said. "This activity is giving them a chance to think about their future in a way that they may not have thought about before today."