About 500 people visited Baltimore's Port Discovery on Sunday afternoon for Baltimore Brain Connect, an interactive event designed to teach young people (and others) about the wonders of the brain.
Participants took part in science demonstrations, had the chance to ask neuroscientists questions about the complex workings of the brain, and saw a community art project featuring the work of more than 500 Baltimore fourth-graders. The project features two parts:
A series of individual neurons, made of colorful wires and beads, joined together to create a giant neural network
Colorful student drawings in response to a simple question: What's on Your Mind?
The event's hosts included the Department of Neuroscience at the Johns Hopkins School of Medicine, the Kavli Neuroscience Discovery Institute at Johns Hopkins, Project Bridge, the Johns Hopkins Brain Science Institute, and the International Arts+Mind Lab.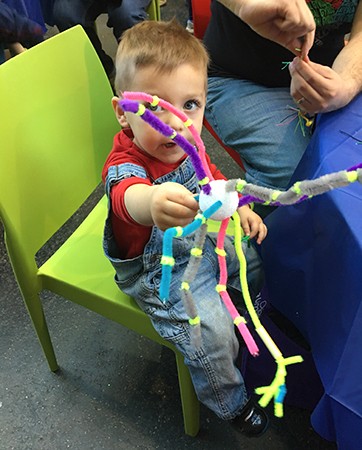 "JHU's commitment to being part of the Baltimore community matters, and we are looking forward to doing more," said Richard Huganir, director of the Department of Neuroscience. "It was great to talk to kids and families about how the brain works, and the artwork was spectacular."
The event was part of Brain Awareness Week, a global campaign to increase public awareness of the progress and benefits of brain research.