Jennifer Kingsley looked at her students on the first day of the "Collections Remix: Black at Hopkins" class and said she wasn't there to tell them what it's like to be black at the university.
"The point is that we want to investigate our own campus landscape for how the experiences and stories of African-Americans are represented and investigate our collection holdings to discover what might be there," the interim director Johns Hopkins University's Program in Museums and Society said.
Kingsley's spring 2017 class gave students an opportunity to dig into university collections, a charge the students took in several different directions. One group focused on bringing artist Joyce J. Scott's Ancestry Doll 1 to the Hutzler Reading Room in Gilman Hall, where it faces a sea of portraits of former Hopkins presidents—all white men. Another group pursued an archiving project to help increase the materials representing black students in the university archives. The third group turned their class project into an exhibition.
American Selfie, which opened last month, is a small exhibit located on the lower level of Brody Learning Commons on the university's Homewood campus. It's composed of pieces from the African American Real Photo Postcard Collection, part of the Special Collections. The exhibit will be open to the public until April 6.
There are more than 1,000 postcards in the Real Photo Postcard Collection—photographs printed directly unto postcard stock, which spiked in popularity after Kodak released an inexpensive camera in 1903. Kept as family mementos, people gave out the postcards to friends and family members with brief messages—similar to today's "selfie."
"We had never seen such a variety of images of historical people, especially black Americans," said senior Monika Borkovic and junior Lorna Henson in their curatorial statement.
The photos in the collection depict individuals, couples, families, schools, prison life, rural America, and more. Some portray racial stereotypes. Borkovic, a Writing Seminars major, and Henson, an Africana Studies and psychology double major, said they chose to display images that most touched them, "pictures of everyday people engaged in a compelling act of self-representation.
"It kind of felt like they just had these thousands of real photo postcards sitting in boxes," Henson said. "I wanted people to actually see this because not many people go to Special Collections to see these things, but they'll go to an exhibit."
As some of the first pictures taken of African-Americans, by African-Americans, the postcards provided a means for black people to showcase their identities during a period of racial discrimination.
"The more we learned about them, the more they became interesting because of the history of photography and how it became increasingly democratized," Borkovic said. "They had control of their narrative."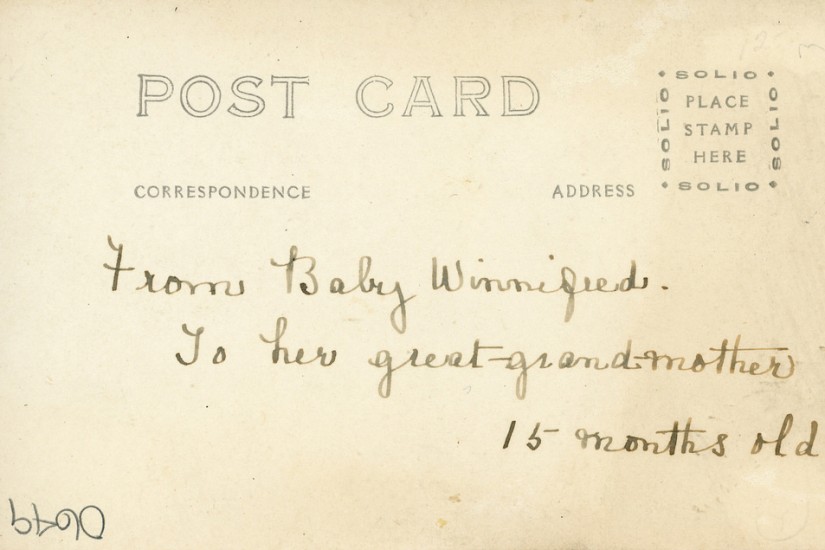 Henson and Borkovic explored ways they could honor the photos that were initially intended for circulation among family and friends. The students researched the collection itself and similar projects at peer institutions. They landed on a concept that invites viewers to submit their own selfies to be a part of the exhibit by emailing AmericanSelfie@jhu.edu. Photos will display on a large screen alongside scans of postcards from the collection.
These submitted images will act as a tribute to the historical photos, said Kingsley, rather than visitors taking a picture with the postcards and possibly exploiting them.
The Sheridan Libraries purchased the African American Real Photo Postcard Collection from a rare books dealer in 2011 as part of a program to support Africana Studies. The people pictured on the postcards are unknown, and their few written notes reveal no identifying information.
Nevertheless, both Henson and Borkovic found a favorite.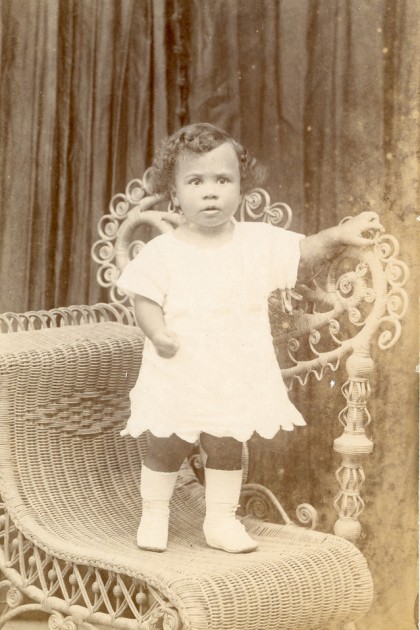 "They found this cute, little picture of Baby Winifred and on the back, there was this note from her mom, sending it to her grandma," Kingsley said. "[Lorna and Monika] said 'This feels so much like today, it feels so relevant, so contemporary.'"
Henson and Borkovic said they encourage their peers to see the exhibit and submit their own photos for display to learn more about the similarities between people then and now. They said the messages on the postcards hint at how carefully and self-consciously the subjects calibrated their portraits, much like many people do today.
"It's exciting and even transformative for students to make these fresh observations and then turn them into a new resource for others," said Gabrielle Dean, curator of Rare Books and manuscripts for The Sheridan Libraries. "It can be pretty thrilling to work with Special Collections materials, but then, on top of that, to convert what you've learned into a beautiful exhibit that captures the attention and helps other people learn, too. It's the ultimate learning experience."