Lisa Eklund spends her days behind a desk at Johns Hopkins University's Whiting School of Engineering. But on Tuesday evening in the Glass Pavilion, the senior grants and contracts analyst left her spreadsheets behind in favor of some very different tools: a bag of Jet-Puffed marshmallows and a pound of Barilla spaghetti.
Eklund joined forces with Abraham Gomez, a fourth-year chemical and biomolecular engineering major, and Adam Polevoy, a third-year biomedical engineering major, to win the Tower of Power competition with a pasta-and-candy tower measuring a whopping 59 inches. Team name? The Senior Citizens.
"We met and formed our team just before the competition started," said an elated Eklund. "We quickly came up with a plan and worked as a team to execute it successfully."
The Senior Citizens' structure boasted a sturdy, three-level tetrahedron base and featured plenty of carbohydrate cross-bracing to ensure that it didn't topple at the last minute—a fate suffered by more than a few of the 17 entries.
Held annually as part of National Engineers Week at JHU, the Tower of Power event challenges teams of undergraduates, graduate students, staff, alumni, and area middle school students to engineer the tallest possible towers from uncooked pasta and marshmallows in 30 minutes. Hosted by Theta Tau, a coed engineering fraternity, this year's event was again sponsored by Bloomberg LP.
"We are so happy to be back for a second year to the Tower of Power," said Melanie Hunter, a Bloomberg recruiter, who was handing out large goodie bags at the event. "We love partnering with schools on events like this and finding creative ways to meet Johns Hopkins students. We especially enjoy seeing the students' competitive natures come out!"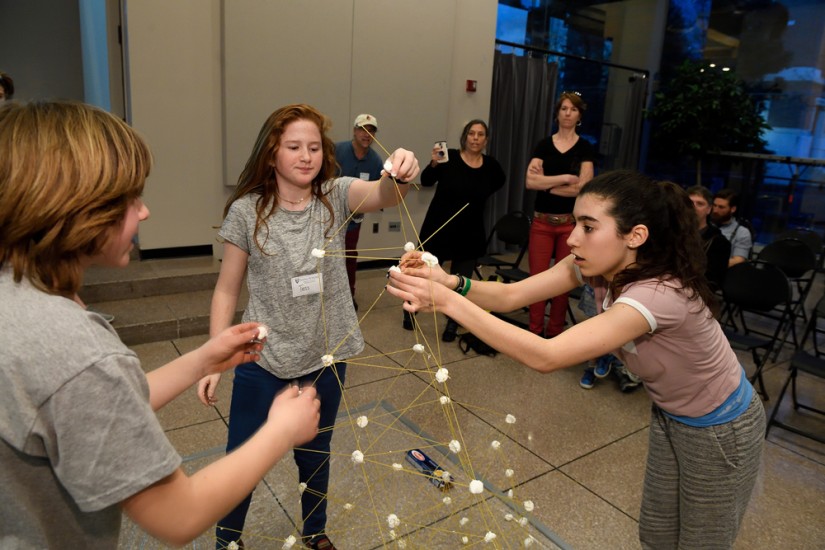 Especially competitive were members of teams from four area middle schools—Immaculate Conception School, Our Lady of Hope, The Waldorf School of Baltimore, and St. Agnes School—who arrived ready to construct well-planned (and well-practiced) structures.
"Our plan is first to break some of the marshmallows in half, and then we will use triangles to build a 4-foot by 5-foot base. We've practiced it over and over, and one time, we got it to 192 centimeters," said Peyton Strzegowski, a 13-year-old 7th grader who served as the coach for the team from Our Lady of Hope.
The majority of Hopkins students who entered the competition admitted to coming in less well prepared and figuring out their strategies in the moments before the clock began counting down.
"We decided to start with hexagons and build up from there as high as we can," said Austin Dillow, who formed Welcome to Chili's with fellow third-year mechanical engineering majors Dominic Yared and Andrew Shaughnessy. "That's the plan, anyway."
Also winging it were Emily Kim, a fourth-year civil engineering major, and Claudio Malicdem, a third-year civil engineering major, of team The Civil People.
"We decided to just build the strongest foundation possible and go from there," Kim said.
It worked: The Civil People's tower stretched 57 inches high, earning Kim and Malicdem second place.
Third place was won by the 54-inch tower built by ACE Builders, made up of Erin Burk, administrative coordinator for the Whiting School's Center for Educational Outreach; Claire VerHulst, assistant director of the CEO's Engineering Innovation program; and Amelia Lindsay-Kaufman, the CEO's AmeriCorps worker.