Laura and Ivia Bou Delgado, two Johns Hopkins University students, stood in the Breezeway behind a table filled with cookies, banana bread, apple crumble, brownies, and other baked goods. A Puerto Rican flag, anchored down with trays of desserts, blew in the chilly wind as students flocked to the bake sale to benefit Puerto Rico between classes.
But at home, Laura and Ivia's parents were without water. Their grandparents had water, but no power. They had to stand in line for gas before the toque de queda, or daily curfew, began. They communicated with family in Baltimore when the cellular signal allowed.
Together, the family has managed much better than most since Hurricane Maria devastated Puerto Rico last Wednesday. Roughly half of those on the island still don't have running water, officials said Friday, and just 36 of the island's 69 hospitals are open and have power.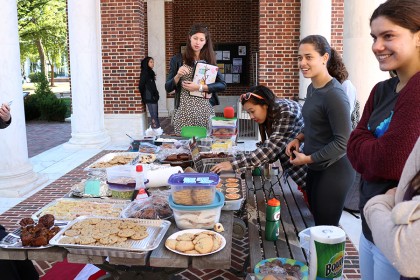 "I feel very disconnected from it," Laura said. "It's very sad. I'll see pictures and I don't believe that that's Puerto Rico, because I've never seen it that way. But we are trying to do as much as we can."
Today the two sisters and a collection of other Blue Jays came together to host a bake sale to raise awareness and money. They collected approximately $3,000 for Unidos por Puerto Rico, or United for Puerto Rico—a disaster recovery effort started by the island's first lady, Beatriz Isabel Roselló. Members of the Hopkins track team, Alpha Phi sorority, Students for Environmental Action, and others who wanted to help donated trays full of homemade baked goods.
"People have been really generous," said Veronica Montane, a first-year student from Puerto Rico and member of the women's track team. "The Hopkins community pulled through."
The idea to host a fundraiser came from an initiative started at the University of Pennsylvania called Students with Puerto Rico that now involves more than 100 U.S universities. The GoFundMe campaign met its first goal of $10,000 within a day.
The group is now more than 90 percent of the way to its new goal of $150,000 and received a $20,000 donation from The Tonight Show host Jimmy Fallon.
The Johns Hopkins students who hosted today's bake sale are not an official student organization. However, they hope to hold a food or supply drive in the future to continue to contribute to Puerto Rico hurricane relief.
Anyone interested in donating to Unidos por Puerto Rico can do so directly, through the GoFundMe campaign, or via @JHU4PR on Venmo.
"That Wednesday, it was a lot of anxiety on campus, at least for Puerto Ricans. It felt useless to be over here," Ivia said. "There are a lot of other families that are not as lucky as my family. That's why making a bake sale, making activities to raise money is very essential. We need to keep moving. We need to keep people aware."