For more than six hours this past weekend, five Johns Hopkins University engineering undergraduates transformed 42 cases of Goya beans—that's 1,008 cans—into a life-sized replica of one of Baltimore's iconic blue-and-white water taxis, complete with jaunty canopy.
The replica was part of "CANstruction," an annual international design competition and charity event featuring structures made entirely out of cans of food by teams of engineers, architects, artists, contractors, and students. At the end of each city's exhibition, the cans are donated to local hunger relief organizations. Since the first event was held in 1992, more than 11.5 million pounds of food have been donated.
The Baltimore competition—which benefitted the Maryland Food Bank—was held Sept. 9 on Concourse D at Baltimore-Washington International Thurgood Marshall Airport. Students from the Whiting School of Engineering's Department of Civil Engineering competed alongside three teams of professional engineers, architects, and designers. This year's theme was transportation.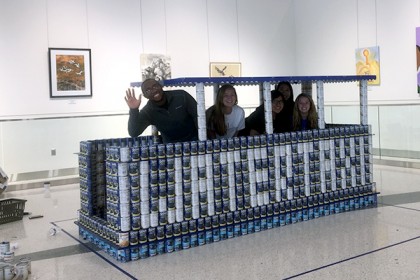 "During the summer, the students who volunteered to be on the team fielded ideas for their structure, and after considering a Penn Station high-speed train, a hot-air balloon, and the Thomas Viaduct [over the Patapsco River], they eventually voted to construct a water taxi," said Rachel Sangree, a civil engineering lecturer and advisor for the JHU chapter of the American Society of Civil Engineers. "The last time we had a team enter was in 2014, so it was exciting to have a group of students take this on again."
Team member Awoenam Mauna-Woanya saw the event as an opportunity to support a good cause and to put classroom engineering skills and knowledge to work.
"This project allowed me to practice the engineering design process from defining the task, doing research, and brainstorming ideas to testing our final idea according to the competition requirements," the sophomore said. "On a small scale, this is [equivalent to] projects that I will be given in the future: We had to consider not only the design, but also the material and the cost of materials."
The team members used Microsoft Excel to carefully plan their structure cell by cell—right down to the letters spelling "WATER TAXI" on the sides. But they quickly found that construction in the real world doesn't always go according to plan.
For instance, they discovered that an eight-foot-long sheet of foam insulation intended for use as structure foundation material was too short by two feet.
Erin Todaro, a senior and president of Hopkins's ASCE chapter, worked with other team members—who included Emily Kim, Isabel Siordia, and Daniela Perez-Roldan—to devise a creative solution: cut a rectangular two-foot piece from the middle (where it wouldn't be seen once the structure was constructed) and use blue duct tape to affix it onto the end.
"I feel pretty proud: That's engineering right there!" she said.
Team members also spent more than an hour exploring whether the cans used to spell out "Water Taxi" would be stable enough if they were stacked atop one another instead of staggered. They knew that staggering the cans would improve structure stability, but could see that stacking them would improve the aesthetics. In this case, aesthetics won out, with students stacking the cans but buttressing the walls from inside to enhance stability
Sangree supervised the construction, standing back and generally letting her students solve problems as they came up.
"This project teaches lessons such as organization, leadership, teamwork, and communication," she said. "In terms of engineering lessons, designing and building the sculpture requires an understanding of statics: It's not as easy as you might think to make a sculpture of cans stand up. Aesthetics also are important. We want this to look good, of course, and to represent the real thing."
A team of judges that includes Maryland First Lady Yumi Hogan and Ricky D. Smith, executive director of BWI, will evaluate all four entries on qualities ranging from structural ingenuity and design to best use of labels, and even the nutrition of the food within the cans. Winners in those categories will be announced at a reception at BWI on Saturday.
Local residents and BWI visitors, however, will decide who wins the coveted "People's Choice Award" by "liking" the photo of their favorite structure on Facebook. The structures will remain on display at the airport terminal until Oct. 2.