They say not to judge a book by its cover, but have you ever judged a book by its taste?
The Johns Hopkins University Sheridan Libraries hosted its fourth annual Edible Book Festival on Friday. Student bakers and JHU community members gathered in the Glass Pavilion on the university's Homewood campus to observe, vote for, and eventually get a taste of desserts inspired by literature.
Heidi Herr, librarian for English and philosophy and outreach coordinator for Special Collections, planned the festival with her student library assistants, who marketed the event and created table cards for each dessert.
"It's a fun way for students to exercise their creativity and showcase their love of literature," Herr said. "Hopkins students … use their intelligence and talent in a way that's different than what they do during class."
Some of those students stayed to explain their creations, while others let their desserts do the talking.
Of 26 literary desserts, 10 were formally recognized in one of five categories: "Funniest/Punniest," "Best Literary Theme," "Best Effort," "Most Delicious," and "Best in Show."
A look at some of the contenders …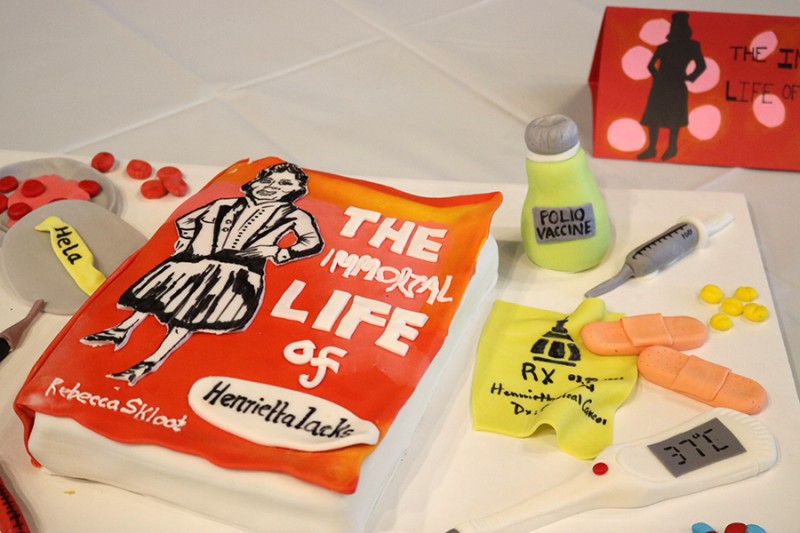 The Immortal Life of Henrietta Lacks
by Rebecca Skloot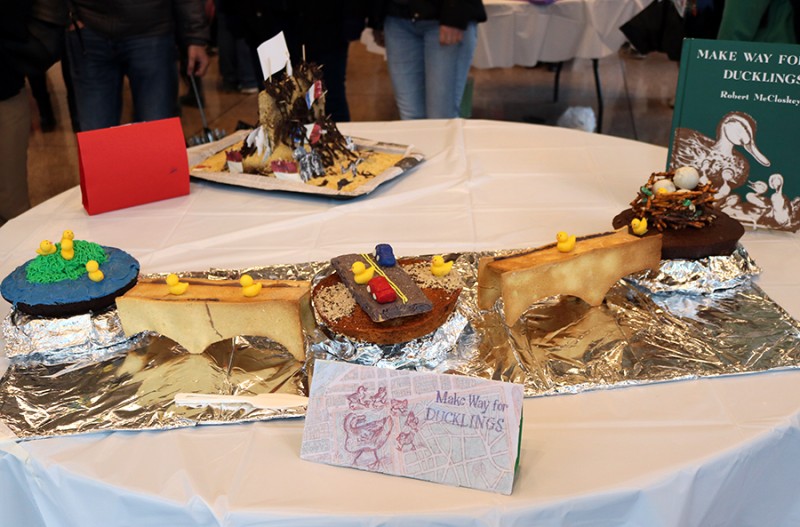 Make Way for Ducklings
by Robert McCloskey: A vegan chocolate orange cake with a pretzel, chocolate, and Rice Krispy duckling nest; white chocolate cake pops as duckling eggs; sugar cookie bridges; carrot cake with a chocolate coconut-flavored road; and ducks and cars made of molding chocolate.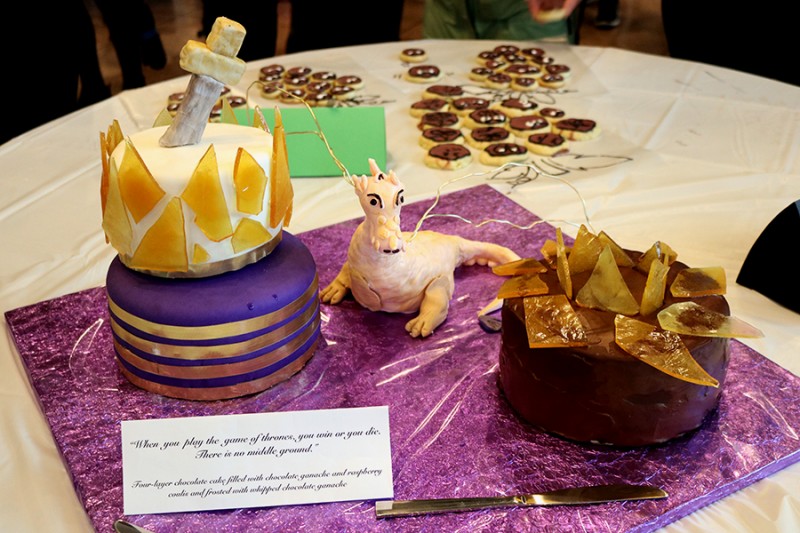 Game of Thrones
by George R.R. Martin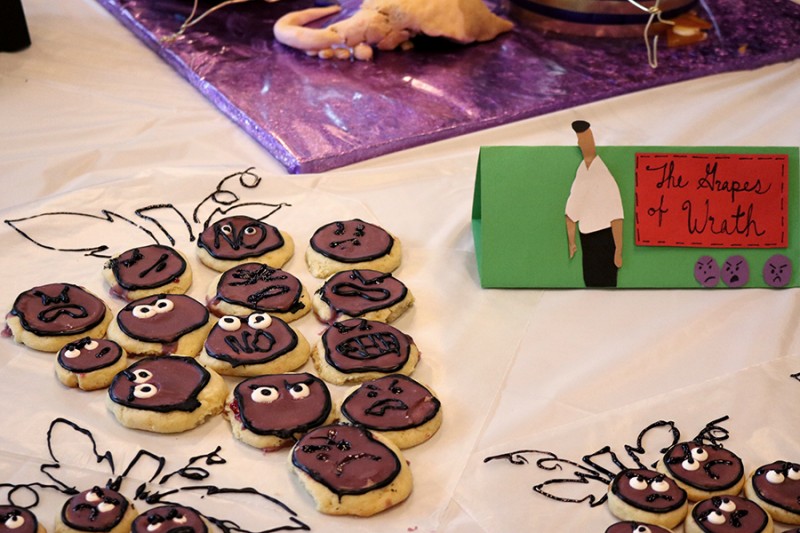 The Grapes of Wrath
by John Steinbeck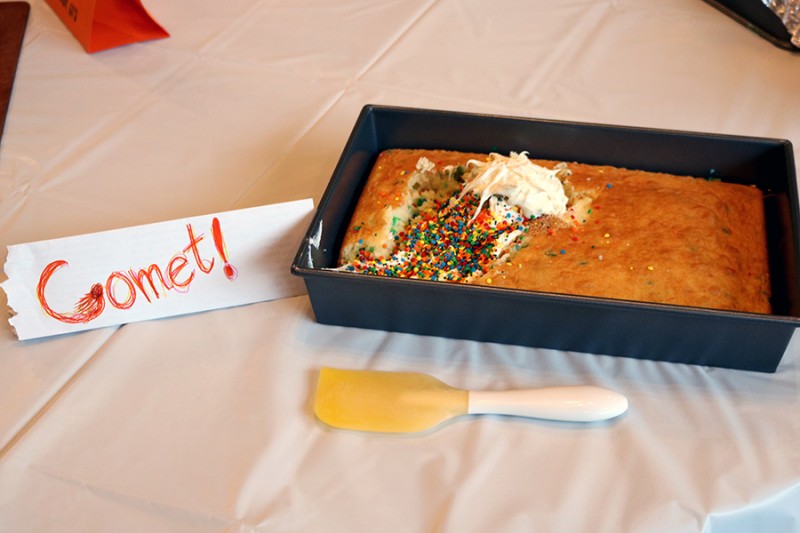 Comet
by Ann Druyan and Carl Sagan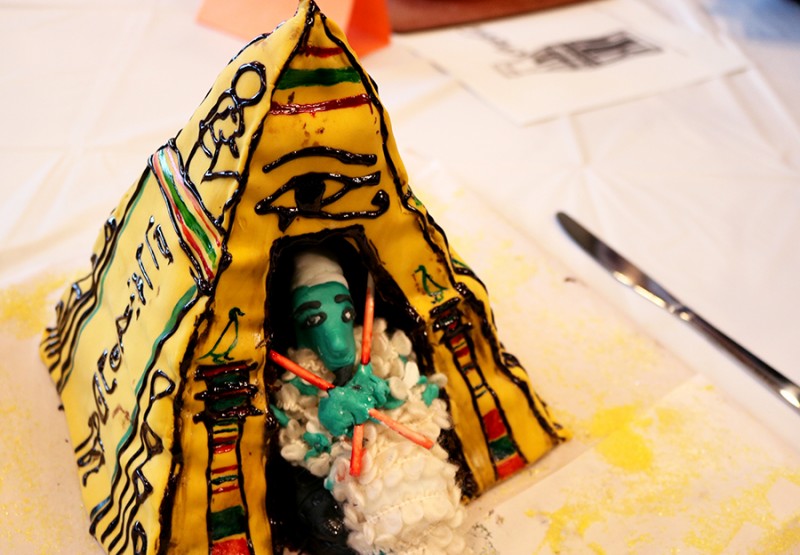 The Egyptian Book of the Dead
—an ancient Egyptian funerary text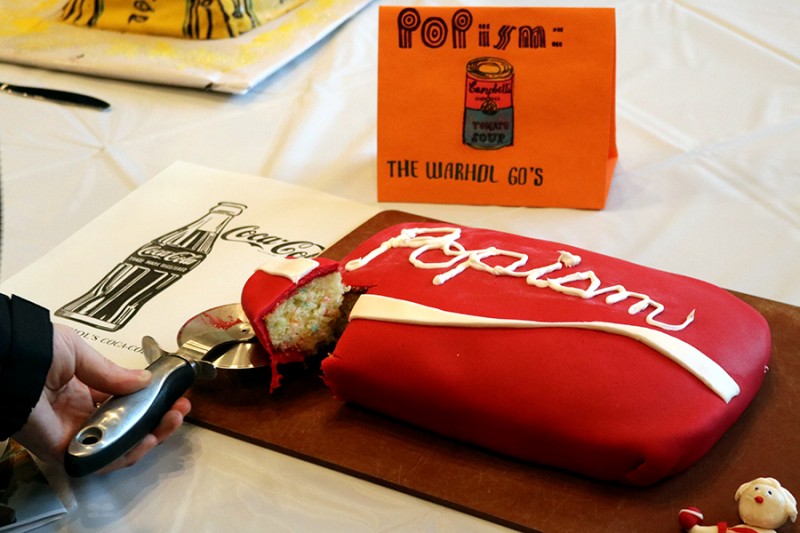 Popism: The Warhol Sixties
by Pat Hackett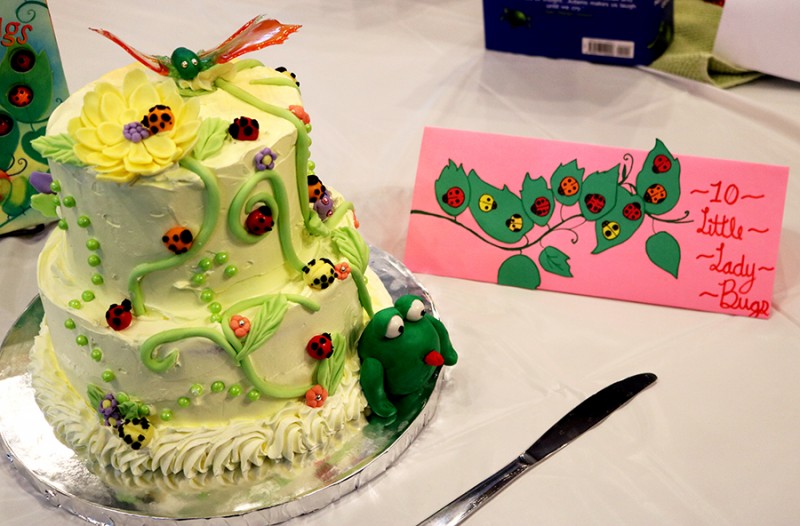 Ten Little Ladybugs
by Melanie Gerth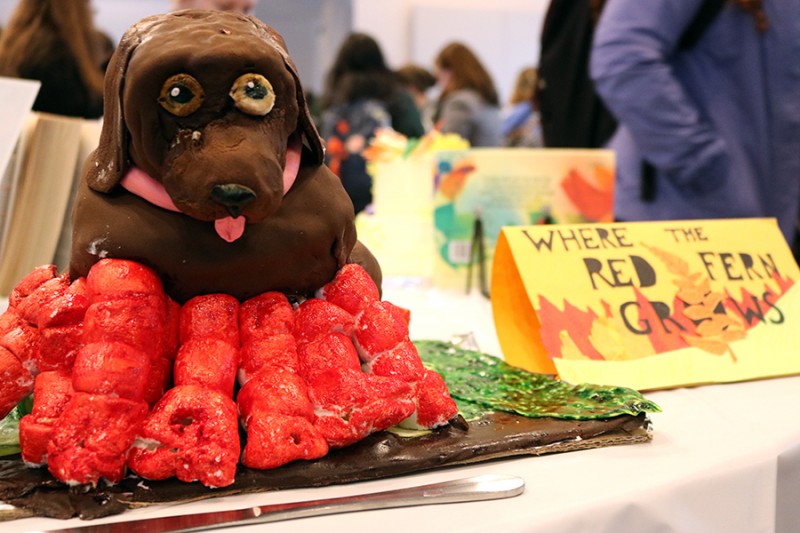 Where the Red Fern Grows
by Wilson Rawls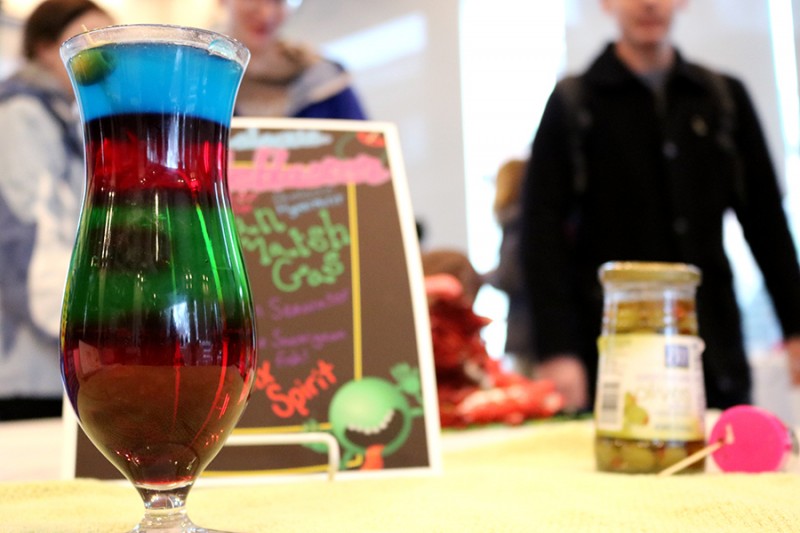 The Hitchhikers Guide to the Galaxy
series by Douglas Adams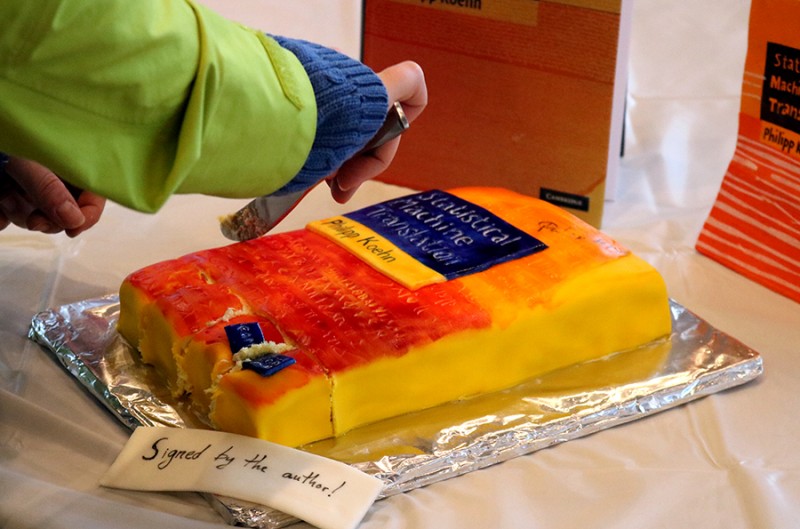 Statistical Machine Translation
textbook by Johns Hopkins faculty member
Phillipp Koehn
, a professor of language and speech processing in the Department of Computer Science. Rebecca Knowles, a fourth-year PhD student, had Koehn sign the "book" in edible ink. The dessert is a lemon cake with lemon, white icing, and fondant on top.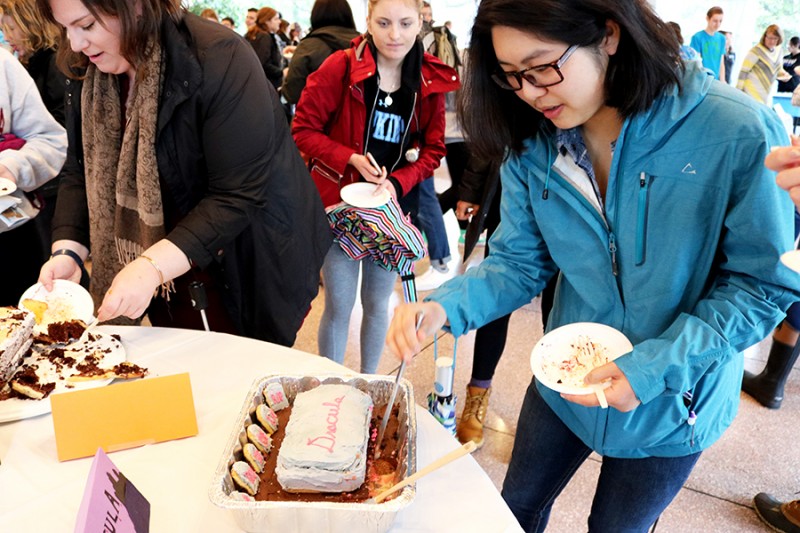 Dracula
by Bram Stoker
After 20 minutes of looking around, attendees were asked to taste the edible books.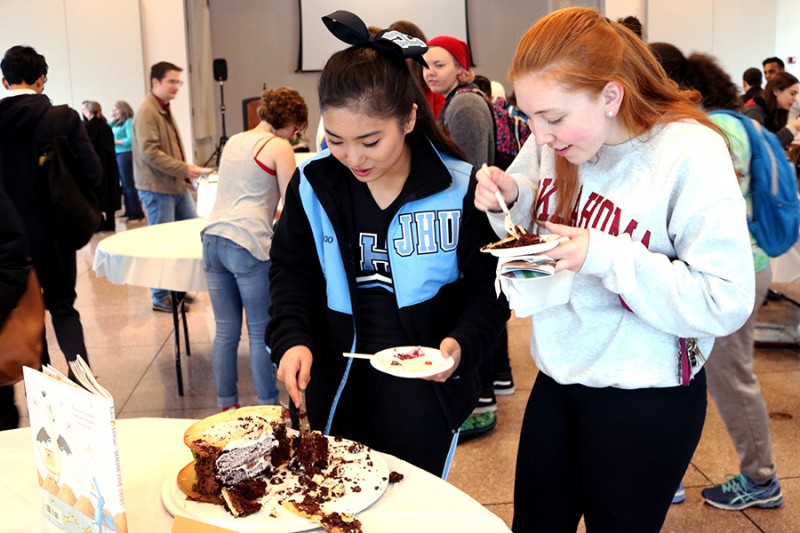 Dragons Loves Tacos
by Adam Rubin
Some desserts were traditional cakes.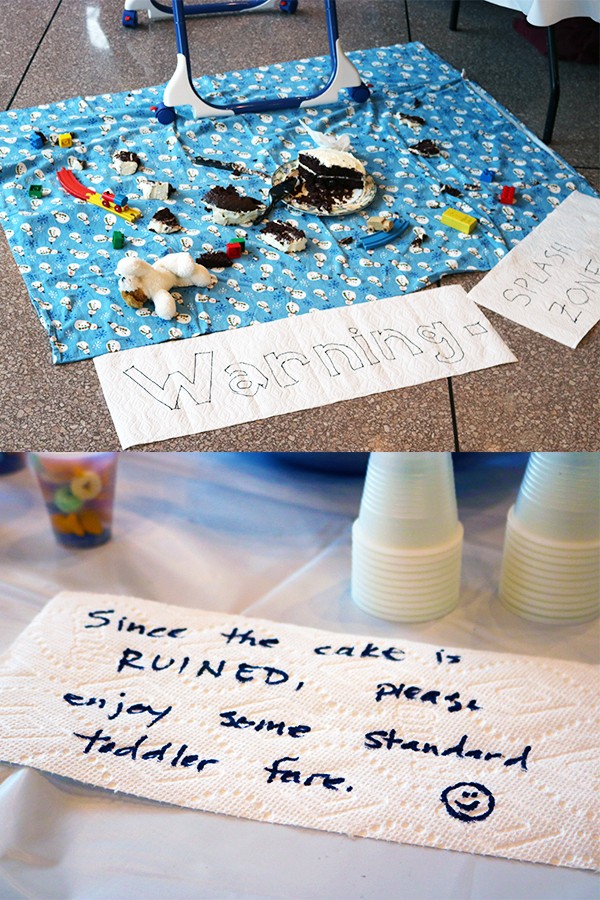 What to Expect the Toddler Years
by Heidi Murkoff
Others were destroyed before guests could get a bite.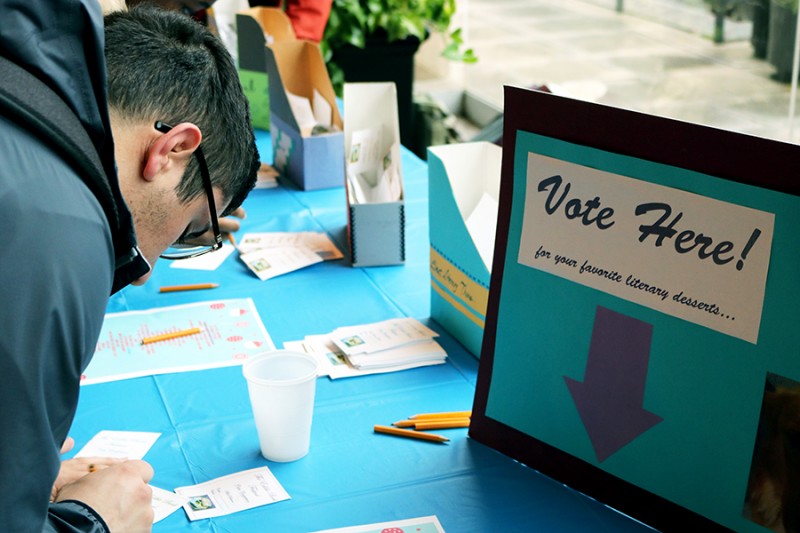 Tasters headed to the voting table to choose the best desserts.
Seniors Andy Ingersoll and Jessica Billeter said that the Peter Pan cake was their favorite.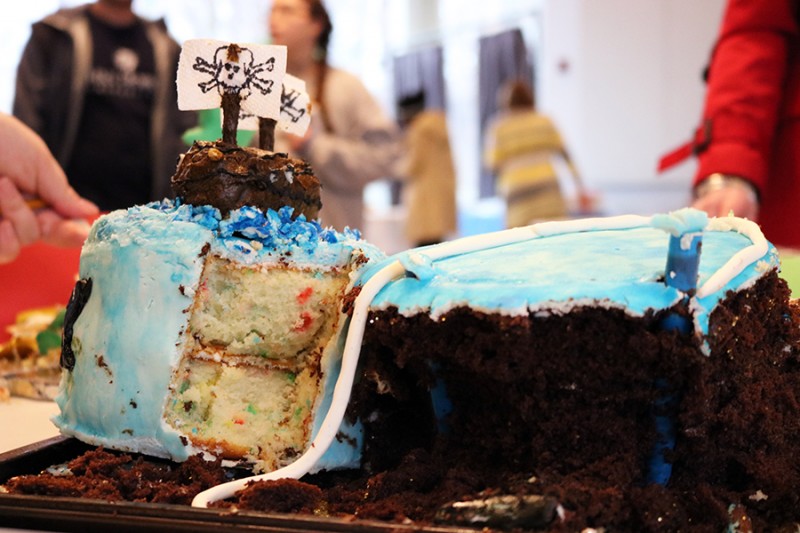 Peter Pan
by J.M. Barrie
But before long, all that was left were crumbs.
Here are the winners of this year's Read it and Eat it Sheridan Libraries Book Festival:
Funniest/Punniest
1st place: Erica Schwartz and Stephanie Herrera for The Grapes of Wrath
2nd place: Deborah Buffalin for What to Expect: The Toddler Years
Best Literary Theme
1st place: Maggie Weese for Peter Pan
2nd place: Sangeetha Tharmarajah for The Immortal Life of Henrietta Lacks
Best Effort
1st place: Zoe Demko for Comet
2nd place: Justine Pinkerton for The Egyptian Book of the Dead
Most Delicious
1st place: Liz Johns for Game of Thrones
2nd place: Riti Gupta for Game of Thrones
Best in Show
1st place: Alice Zou for The Secret Garden
2nd place: Lani Roskes and Jacob Klein for Make Way for Ducklings