Propaganda is a life force in a totalitarian state. In isolated North Korea, state-sponsored media targets not only the country's own citizens, but governments around the world that must closely watch the unpredictable nation. Just ask Michael Madden.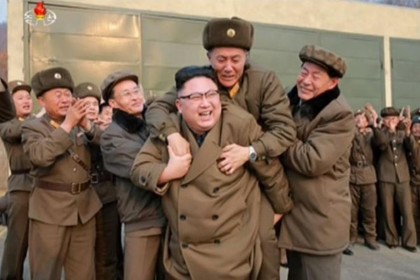 Madden, a visiting scholar at the U.S. Korea Institute in the Johns Hopkins University School of Advanced International Studies, recently lent his keen eye for interpreting the regime's propaganda to BBC News in a commentary breaking down newly released state photos depicting an anonymous official jumping on the back of the country's dictator, Kim Jong-Un.
"Nobody would dare piggyback [Jong-Un's] father or even his grandfather," Madden tells the BBC. "But this fits into the image Jong-Un has tried to cultivate—that he is more open, on an interpersonal basis, than his father. ... It conveys a certain sense of political confidence in his rule and leadership of the country."
What's more, says Madden, the gesture has a deliberately athletic feel, like a post-game victory leap onto a fellow football player's back—which fits aspects of Kim's leadership philosophy, says Madden.
"When a test is conducted, civilian and military personnel [are told they] should regard it as a sports competition—they win some, and lose some," he says. "They won't 'win' or meet technical specifications all the time, and when they 'lose' they study their performance and what happened."
This isn't the first time Madden, who is also a frequent contributor to the watchdog site 38 North, has helped analyze a propaganda photo to develop intelligence about North Korea. When the state released a photo of Kim posing with what it claimed to be a nuclear warhead in late February, The New York Times drew from Madden's commentary to create an in-depth analysis of the photo and assessment of the state of the North Korean nuclear program. Then, as now, Madden suggested that Kim is growing in confidence as a leader.
As the totalitarian state continues to release photos depicting celebrations, congratulations, and success, analysts like Madden will comb the propaganda for clues as to its veracity—while the rest of the world watches.
Read more from BBC News