The National Cancer Institute has picked the Johns Hopkins Montgomery County Campus as the site for a new laboratory building for its epidemiology and genetics researchers.
The planned 70,000-square-foot building will bring together about 134 scientists and employees now working in separate facilities in Gaithersburg and Frederick, about 25 miles apart.
The new labs will be on the east side of the campus, between the university's own buildings and an NCI parking deck. The 1.5-acre site is very close to the NCI's 517,000 square-foot existing building on the campus, which opened in 2013 and houses more than 2,200 NCI employees.
Leslie Weber, Johns Hopkins' director of campus, government and community affairs in Montgomery County, said the planned new lab fits neatly with the county's Great Seneca Science Corridor master plan, which promotes the growth of a life sciences-based economy in the Rockville-Gaithersburg area.
"We are glad the JHU Montgomery County Campus meets NCI's needs to advance research and innovation in cancer genomics," Weber said. "We look forward to welcoming these researchers to the campus community."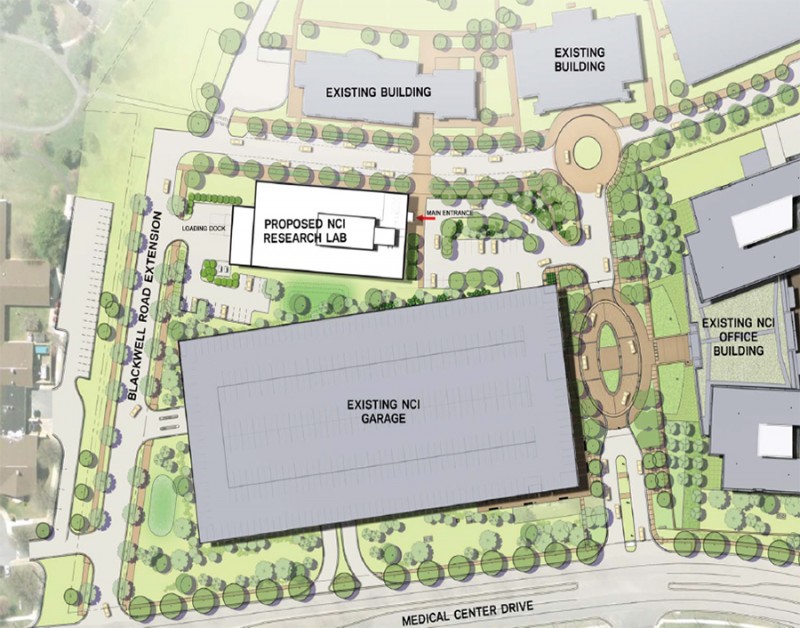 The new building will be developed and owned by an affiliate of the JBG Cos., which has leased the ground from Johns Hopkins. The same arrangement is in effect for the first NCI building. If all approvals are obtained, JBG plans to start construction this fall, and NCI would occupy the building in mid-2019.
The labs to be located in the building work on cancer genomics, translational genomics, genomic susceptibility, and genetic epidemiology. Bringing the research teams together is expected to promote easier collaboration among scientists and allow them to share equipment, data, and computer capacity.
NCI is one of 27 institutes and centers that make up the National Institutes of Health, which both conducts its own research and funds biomedical science at universities across the country. Johns Hopkins is the largest recipient of NIH extramural funding. The Johns Hopkins Bayview campus in Baltimore is the site of another NIH lab facility, where in-house National Institute on Aging and National Institute of Drug Abuse scientists conduct basic and clinical research.