Almost two dozen sixth-graders visited Whiting School of Engineering laboratories and facilities on the Johns Hopkins University Homewood campus Saturday as part of an effort to help them envision their own futures as engineers, researchers, and scientists.
"My goal for this visit was to make their future somewhat more tangible and personal, so they understand all that they can do."
Damian Cross
Mechanical engineering major
The students—from Franklin Square Elementary/Middle School, Green Street Academy, and Southwest Baltimore Charter School—are part of the University of Maryland, Baltimore's Continuing the Umbrella for Research Experiences Scholars Program. The CURE program provides sixth- to 12th-grade students in West Baltimore with a variety of STEM enrichment experiences in order to prepare them for research and health care careers.
Invited by students in the Department of Mechanical Engineering, the CURE Scholars visited research and teaching labs and design spaces, as well as the studio where Hopkins Baja members design, build, and fine-tune their off-road competition cars.
Members of Johns Hopkins' chapter of the American Society of Mechanical Engineers worked as tour guides and led the afternoon activities.
"We showed them engineering concepts through several demonstrations, such as the wind tunnel and tension tests," said Damian Cross, a sophomore mechanical engineering major from Manlius, New York.
Cross, who worked last summer as a mentor in the CURE program, conceived the idea of bringing the middle school students to campus and organized the outing.
"My thought was that, a lot of times, students can only be exposed to so much in class. Sure, you can see a cool physics demonstration, but that's nothing compared to experiencing it firsthand," Cross said. "My goal for this visit was to make their future somewhat more tangible and personal, so they understand all that they can do."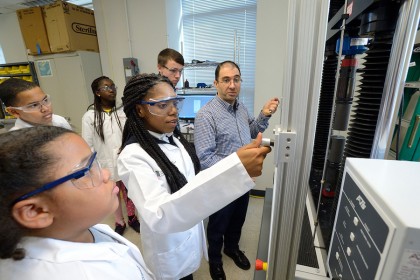 In addition, Cross noted that the CURE program's goals of giving students a set of firsthand, practical experiences dovetailed nicely with his chapter of ASME's goals of meaningful community outreach, making the afternoon outing a win-win.
"It's great seeing our students volunteering their Saturday afternoon to help get kids interested in engineering," said Associate Teaching Professor Steven Marra, who helped organize the event.
Lauren Kareem, curriculum specialist with the CURE Program, noted that the scholars are currently conducting research on health disparities, and the visit to Johns Hopkins allowed them to explore practical applications and possibilities for robotics in health care.
"This is significant as it aligns with our core mission of creating a health careers pipeline for underrepresented minorities," Kareem said.
The scholars were accompanied on their visit by 10 CURE mentors and teachers, as well as by Robin Saunders (MS '99, EdD '08), executive director of CURE.