Wearing white lab coats and blue lab gloves, nearly 500 budding scientists explored career opportunities in STEM fields recently during the eighth annual Frontiers in Science & Medicine Day at the Shady Grove Life Sciences Center in Rockville, Maryland.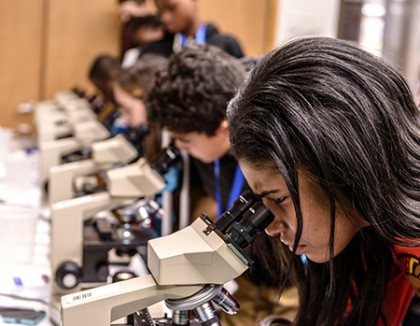 Students spent part of the day at Johns Hopkins University's Montgomery County campus, where they participated in hands-on activities. They spent the other part of the day visiting a local laboratory or hospital so they could experience what doctors and scientists do each day.
Seventh-graders from Martin Luther King Jr. and Montgomery Village middle schools participated in Frontiers this year. The students toured science companies in the community, the pediatric emergency department at Adventist Healthcare Shady Grove Medical Center, epidemiology and forensics labs at Johns Hopkins University Montgomery County Campus, the pharmacy and nursing schools at the University of Maryland, and the NIH National Center for Advancing Translational Sciences.
The collaborative event is a way to introduce Montgomery County Public Schools students to careers in science and medicine. Montgomery County has more than 300 biotech companies and 10,000 highly educated biotech workers, according to the Montgomery County Economic Development Corporation. Yet many people, especially middle-schoolers, are unaware of the work that goes on in these buildings.
The Johns Hopkins University Center for Biotechnology Education ran two lab tours on campus. In one, students in the wet lab learned how DNA is used in forensics as they conducted experiments with DNA to help identify who ate the cat food in a mock scenario. In another, students learned about epidemiology and infectious diseases as they tracked the spread of a zombie virus at a mock carnival.
Biotech students pursuing master's degrees also ran several hands-on activities, including an owl pellet examination exercise and a demonstration that illustrates the high cost of bringing pharmaceuticals to market.
"I experienced new things like making slime and seeing what the heart actually looks like," said David Valladares, 13, of Montgomery Village Middle School. "It's actually pretty cool. We actually experienced what doctors use and what scientists do. It makes me feel like how I would feel if I were to be a scientist."