The big idea, admits Jeff Siewerdsen, was recorded on a napkin from a Subway sandwich shop: Wouldn't it be great to develop a CT scanner that patients could stand in, rather than lying flat?
In the subsequent five years, Siewerdsen, a professor in the Johns Hopkins Department of Biomedical Engineering, and a team of colleagues took the idea from the napkin to the laboratory and the product's first clinical studies at Johns Hopkins Hospital. They devised a small CT scanner that allows a patient to stand comfortably so health care practitioners can see how the joints of the foot, ankle, or knee respond while bearing weight. As development progressed, they extended to imaging of the hands, wrist, or elbow.
The team's intent was to provide high-quality images with a low radiation exposure, and the results were encouraging from the beginning. Compared to a conventional CT scanner, the new scanner was able to show not just fine bone details but cartilage, tendons, and ligaments.
Researchers at Johns Hopkins devised mathematical formulas that described the image quality and pushed the limits of 3-D imaging capability. Within two years, they'd created a prototype for clinical studies, begun a collaboration with Carestream Health of Rochester, New York, and attracted funding for projects with the National Institutes of Health and the Department of Defense.
Their collaboration with Carestream resulted in a system approved for clinical use by the U.S. Food and Drug Administration this September. The device, called OnSight 3D, has won accolades from industry experts and has been named 2016's "Best New Radiology Device" by a website for radiologists and professional medical imaging experts.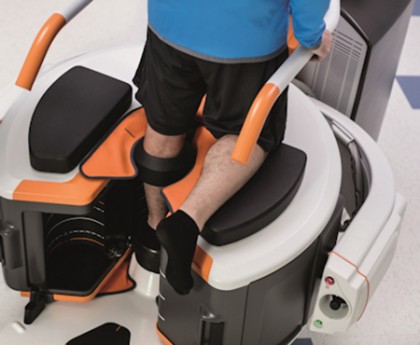 The new device allows orthopedic physicians and others looking deeply at joints a chance to see bone breaks that previously could have gone undetected, as well as soft tissue problems such as a torn meniscus or damage to ligaments. This means practitioners can potentially give patients improved care by better tailoring remedies to their conditions.
The work has expanded to include new collaborations and clinical applications. Johns Hopkins physicist and BME instructor Wojciech Zbijewski now leads research that uses the scanner to provide a look at deeper bone structures, which may allow earlier detection of conditions such as osteoarthritis—a disease that by the time it normally manifests itself is too late to treat.
The new imaging machine involves exposure that is lower than conventional CT, and it has a small footprint that allows installation without extensive room-shielding typical of other CT scan machines. That, coupled with lower costs for the machine compared to a full-blown CT scan device, means that it can be used in clinics, lowering health care costs and increasing patient convenience.
Siewerdsen marvels at the path that the initial idea has taken over the 10 years since that meal at Subway.
"It was an exciting spark of innovation and a team effort," he says. "Biomedical engineers, radiologists, and orthopedic surgeons worked together at every step."
Even in those last stages of regulatory approval, FDA scientists evaluating the system wanted to know the mathematics underlying the technology. Siewerdsen had the napkin—and a great team of collaborators—to show them exactly what they needed to know.