As the group of volunteers circled up to introduce themselves at the start of the Centennial Service Day event this morning, each shared his or her favorite neighborhood in Baltimore as an icebreaker. Fells Point, Mount Vernon, and Roland Park were all mentioned, but one section of the city got more than its share of the love.
East Baltimore, said person after person. It was a fitting start to a day spent beautifying three community gardens near Johns Hopkins University's East Baltimore campus.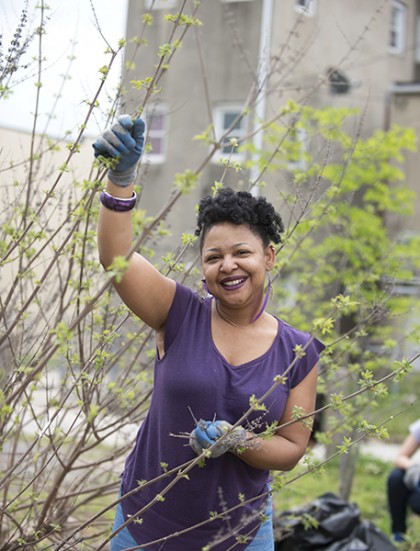 "Today's not just about sustainability for the earth, it's about sustaining relationships with the community," said Nicole Hughes, communications associate for the Department of Environmental Health Sciences at the university's Bloomberg School of Public Health, which helped organize the event.
The Centennial Service Day event not only celebrates Earth Day, but it is also part of the Bloomberg School's year-long 100th anniversary celebration. Department members teamed up with the Environmental Health Sciences Student Organization and community partner Civic Works to organize cleaning crews, gather supplies, and recruit volunteers.
"We wanted something in walking distance, and we wanted a site that could accommodate a number of volunteers," said Ruth Quinn, senior program coordinator for the Department of Environmental Health Sciences. "There's a nice mix of staff and students and faculty, and a couple of folks outside the department who joined us."
Volunteers divided into groups to tackle weeding, trash cleanup, planting, and mulching. A heavy-duty DeWalt stereo played a marathon of Prince dance songs, and before two hours was up, the garden looked rejuvenated.
Several student volunteers cited a commitment to sustainability as their reason for joining the cleanup. Pranay Randad, a PhD student focusing on infectious diseases in agriculture, said the issue of sustainability is important on both large and small scales—from a major industry like agriculture down to a small neighborhood garden.
"Today's event falls right in line with the sustainability philosophy of the department," he said.
Added Joanne Zurlo, a senior scientist in the department who came out to volunteer: "The nice thing about this is it's our neighborhood."