Not all research happens in a lab.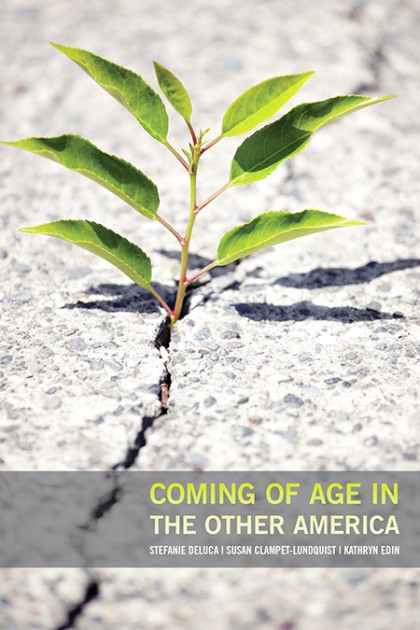 In the case of the newly released Coming of Age in the Other America, co-authored by Johns Hopkins sociologist Stefanie DeLuca, the core research took place on sofas and at kitchen tables in Baltimore homes. To get a sense of how children born into city public housing in the 1980s and 1990s were faring as young adults, she spent hours interviewing them in their own houses.
The process turned out to be "incredibly intimate," she says. "You sit down with a stranger, and if you're doing your work well, you're able to create the kind of conversation that invites vulnerability, humor, and honesty ... in exchange for openness, empathy, and lack of judgment."
The result is an in-depth portrait of the lives of young Baltimoreans, looking at factors that have helped them or hindered them on their path to adulthood. DeLuca wrote the book along with Johns Hopkins sociologist and Bloomberg Distinguished Professor Kathryn Edin and Susan Clampet-Lundquist of St. Joseph's University.
Also see
The researchers followed up on an initial 2003-2004 study of parents living in Baltimore's public housing projects by turning to 150 of their children as they reached adulthood in 2010. They conducted more interviews in 2012.
Then last spring, as the sociologists pulled together more than a decade of research, Baltimore gained national attention with the death of Freddie Gray and the unrest that followed. Though not framed specifically in response to these events, Coming of Age in the Other America addresses the uprising as one piece of an overall narrative of Baltimore that fails to accurately represent the city's youth.
"This isn't just about Baltimore. This is about the chances that a poor child will become a middle-class adult, and the fact that these chances are becoming less and less likely."
Stefanie DeLuca, Johns Hopkins sociologist
"The national picture in Baltimore was never optimistic and balanced to begin with," DeLuca says. "What most people know about Baltimore they know from Homicide or The Corner or The Wire."
Though all of the book's subjects were born in distressed environments—"some of the most physically and socially degraded spaces in our nation," the researchers write—the book offers "a strong corrective to the popular perception of this group as being swept up in crime and delinquency." Contrary to mainstream media representation, the researchers found that the majority of the youth were "actively resisting the street, determined to be 'about something else,' and hungry for postsecondary education and careers." In most cases, they were far better off than their parents, completing their high school educations and holding employment at much higher rates.
Yet the book also resists a rosy picture, presenting a decidedly "glass half full and glass half empty" portrait. As the researchers prepare to leave their subjects in 2012, they write, "too few had become all that they had hoped to be—and were probably capable of becoming." Many struggled with low-wage, unstable jobs at the bottom rung of the economy, far removed from middle-class aspirations.
The researchers specifically examine the consequences of policies that helped move the children out of Baltimore's notorious high-rise public housing complexes, including the Moving to Opportunity program, which provided vouchers for families to shift to wealthier neighborhoods.
But their interviews also consistently reveal the impact of more personal factors. Critical to success for many adolescents was landing on what the researchers call "an identity project"—a consuming, defining passion such as writing poetry, building pigeon coops, attending anime festivals. Those who never found that type of life raft, the researchers write, "had no map, no foothold on their future."
The book's title points to Michael Harrington's seminal 1962 book The Other America, known for "galvanizing the war on poverty," DeLuca says. By aligning themselves with that work, she says, the authors attempt to "engage in this bigger conversation about inequality in America."
Says DeLuca: "This isn't just about Baltimore. This is about the chances that a poor child will become a middle-class adult, and the fact that these chances are becoming less and less likely. Why do we continue to see cycles of intergenerational disadvantage? At what points do we see progress, and at what points can we intervene?"