Mapping a city to detect Zika mosquito hotspots. Fashion accessories infused with a long-acting mosquito repellent. A special soap that keeps mosquitoes away. These are among the winning ideas from a Johns Hopkins University hackathon that drew participants from Baltimore to Brazil looking for ways to help prevent the spread of the Zika virus.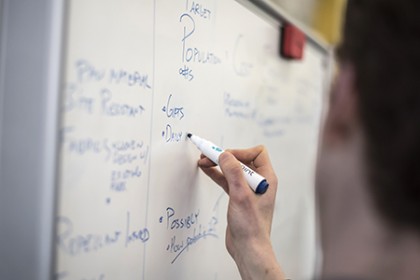 Johns Hopkins' Center for Bioengineering Innovation and Design and Jhpiego, a global health nonprofit and university affiliate, convened the weekend Emergency Zika Design Challenge with a single, strategic focus: to come up with innovative ideas "to prevent disease through protection from mosquito bites."
"This is just the start," said Youseph Yazdi, executive director of CBID and a co-organizer of the hackathon. "Every team had kernels of great ideas, but they need more refinement. Jhpiego will be providing the resources for the next three months for the teams to get together and refine their ideas."
Harshad Sanghvi, Jhpiego's vice president of innovations and chief medical officer, encouraged hackathon participants to think globally because mosquito-borne diseases are not restricted to Zika virus or to Latin America. "All of us have a responsibility to figure out a solution," he said. "We are committed to find that solution."
Cases of mosquito-borne Zika virus infection in Latin America and the Caribbean have been associated with microcephaly in infants born to women infected during pregnancy and Guillian-Barre syndrome in adults. On Feb. 1, the World Health Organization declared the Zika virus a global health emergency, estimating that 4 million people worldwide will be infected by year's end. The U.S. Agency for International Development's Center for Accelerating Innovation and Impact has encouraged research universities such as Johns Hopkins to join the fight against Zika as many did during the Ebola virus outbreak in 2014.
Like their response to the Ebola crisis, CBID and Jhpiego organized the design challenge to galvanize the best and the brightest across the Johns Hopkins community to come up with new, promising ideas to prevent the spread of mosquito-borne diseases and save lives. As many as 80 percent of people infected with Zika virus will show no symptoms. There is no vaccine to prevent Zika virus or antiretroviral treatment. Protection against mosquito-borne diseases includes use of insect repellent, sleeping under treated bed nets, and eliminating breeding areas for mosquitoes.
During the Johns Hopkins hackathon, approximately 50 biomedical engineers, scientists, global health specialists, and students joined with public health experts from Brazil, the Armed Forces Pest Management Board, and U.S. Department of Agriculture's Invasive Insects Biocontrol and Behavior Laboratory to brainstorm new ways to prevent mosquito bites and motivate the public to protect themselves.
Among the top ideas to emerge:
A modified mosquito trap surveillance system to map mosquito hotspots in a city, empowering communities to take action and clean up their neighborhoods and assisting public officials in identifying areas to spray for mosquitoes and better target resources;
Culturally appropriate fashion accessories that emit a long-acting mosquito repellent;
A soap dubbed "Never Will Bite" that repels mosquitoes and can be used on the skin or to wash clothes, an idea that incorporates a repellent into a normal daily routine;
ZikAvoid, a banner that emits mosquito repellent and can be used at sporting events; it is part of a kit that would also include a personal spray, a larvicide, and an information packet that could be given to pregnant women during health visits.
Among the challenge participants was a group of five high school students from Garrison Forrest School, a Baltimore day and boarding school for girls. The young women are members of the Women in Science and Engineering program, a partnership between the school and the Whiting School of Engineering.
"This event is definitely at a level that exceeds what occurs in high school," says Andrea Perry, the dean of special programs for Garrison Forest who helped coordinate the girls' participation in the hackathon. "They've hit hurdle after hurdle in their design teams, but it has shown them that while they are less experienced, they can make valuable contributions. It has given them confidence to jump in with their ideas."
Eleventh-grader Hanwen Yang said she was uncomfortable with the immersive experience at first.
"I came in without knowing what Zika is, but I learned a lot by Saturday and I had many, many ideas," she says. "Everyone had different insights and different areas of expertise. Of course, [the Hopkins students and experts] have more knowledge and experience than we do, but I think the process of communication, the process of thinking, of inventing—it's the same for everyone."
CBID operates within the Johns Hopkins Department of Biomedical Engineering, which is shared by the university's Whiting School of Engineering and its School of Medicine.