Revolutionary breakthroughs in neurally controlled prosthetics of unprecedented capability by the Johns Hopkins University Applied Physics Laboratory have earned APL recognition as one of the world's most innovative companies of 2016 by Fast Company magazine.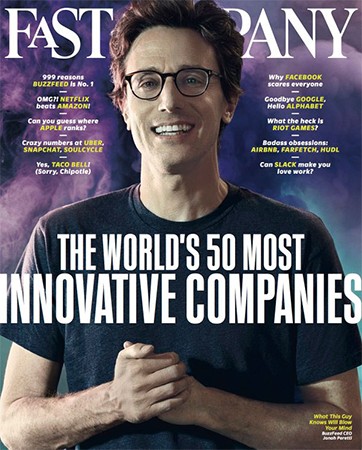 The editors of Fast Company selected APL fifth on their list of the world's 10 most innovative healthcare organizations.
Fast Company's "Most Innovative Companies of 2016" list, featured in its March 2016 issue, was compiled by their editors and writers, who sought out companies that are solving tough problems and using high-level creativity. The resulting list is "a collection of remarkable organizations that are truly disrupting business-as-usual across the world," according to the publication. The magazine recognized 350 companies in 35 sectors overall.
Of APL, Fast Company writes:
Founded in 1942 to assist with World War II efforts, the Johns Hopkins Applied Physics Laboratory's core mission is to use innovative science and tech to enhance national security. Billed as the nation's largest university-affiliated research center, its multimillion-dollar Defense Advanced Research Projects Agency-funded Revolutionizing Prosthetics program partners with other Johns Hopkins departments, universities, government agencies, and private firms to develop next-level prosthesis. Their biggest breakthrough is the Modular Prosthetic Limb, the first prosthetic arm that users can operate by simply thinking about moving. At present, there are only ten arms available, and they cost half a million dollars each to produce. The next step is to work with industry partners to get the limbs to those who need them.
Led by APL and funded by the Defense Advanced Research Projects Agency, the Revolutionizing Prosthetics program has created a number of new technologies and advanced the state of the art for numerous research disciplines as it created the world's first artificial limb controlled by neural impulses.
"Innovations like this are only possible through the collaborative power of teams, and the Revolutionizing Prosthetics team—which spans 30 different organizations across the nation—is proud to receive this award," said Alan Ravitz, APL's National Health program area manager. "Our accomplishments have shown the potential that exists to improve lives and create new avenues of research that could lead to even greater benefits for humanity."
Spinoff technologies and developments from the Revolutionizing Prosthetics program have so far included advances in micro-engineering electrical and mechanical components, as well as innovative methods of controlling prostheses, including using eye movements or through groundbreaking developments in brain–computer interfaces that allow people to perform complex tasks using only the power of thought.
"This award recognizes our life-changing innovations in prosthetics, and is also representative of our culture in which innovations literally range from the deepest oceans on Earth to the farthest reaches of our solar system," APL Director Ralph Semmel said.