Irene Vargas emigrated from Peru when she was 10 years old, arriving in America with no English and no friends.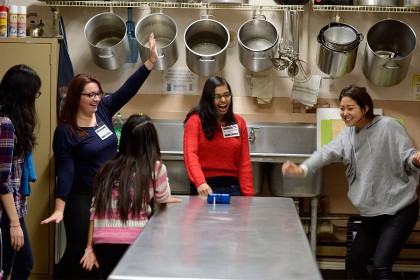 The Johns Hopkins University senior now calls Baltimore home, and is discovering that she shares the community with a surprisingly large immigrant and refugee population. A 2014 report estimated that 7.3% of the city's population was born outside the U.S. Of the 6,700 refugees who resettled in Maryland in 2010–2014, 43 percent live in Baltimore City, according to a Maryland Office for Refugees and Asylees report.
Spurred by her experiences as an immigrant, Vargas wanted to learn about what life is like for refugees. Other Hopkins students expressed similar interests, propelled by their own experiences as immigrants or galvanized by the ongoing Syrian refugee crisis.
Last month, the Alternative Breaks Program, an extension of JHU's Center for Social Concern, offered Vargas and her peers an opportunity to learn about refugees and the communities that support them as part of an immersive, for-credit Intersession course.
Participating students spent the week at a retreat center in Mount Vernon, which served as a temporary headquarters for three Alternative Breaks groups. Under the direction of course instructor Bob Francis, a Johns Hopkins sociology PhD student, the students learned about the current crisis in Syria and specific migrant populations living in Baltimore. The city's refugee population comes from all around the world; among those who have recently resettled here, the largest group is from Bhutan, a Buddhist kingdom in the Himalayas.
Two student facilitators, Caroline Lupetini and Aria Albritton, organized a busy schedule for the week that included meetings with resettlement agencies, service activities, and a day trip to Washington, D.C. There the group visited the UN Refugee Agency and met with a staffer in the office of Sen. Gary Peters, a Michigan Democrat who this fall urged the White House to accept more refugees from Syria and other Middle Eastern countries. The visit coincided with a Senate vote to block legislation in favor of tougher refugee screening, which prompted an ongoing discussion among the students throughout the week.
"Almost everyone had direct experience with this," Lupetini said, adding that several students shared their own stories of immigration. "It was really wonderful to hear everyone's personal stories to add to the instructional value of the trip."
The highlight of the week, many agreed, was tutoring with the Refugee Youth Project, a Baltimore City Community College program that provides after-school programming for refugee youth. The 11 JHU volunteers dispersed to several tables to provide individualized help to program participants on topics that included math, history, and SAT prep.
"I've never had an experience like this one," Vargas said.
As she tutored a 16-year-old Burmese refugee, she recalled a time when she bounced from tutor to tutor, struggling with her English. "I see myself in them," she said.
The Breaking in Baltimore Alternative Breaks Program is designed to give students an opportunity to explore social justice issues by engaging with Baltimore through direct service and education sessions. For more information and to see upcoming trips, visit the Center for Social Concern website.