A book co-authored by Johns Hopkins University's Kathryn Edin's, $2.00 a Day: Living on Almost Nothing in America, has been included on The New York Times Book Review's 100 Notable Books of 2015 list.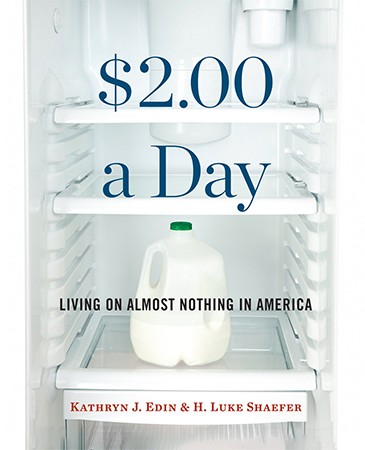 In the book, Edin, a sociologist and Bloomberg Distinguished Professor at JHU, documents extreme poverty in the U.S. with her co-author, H. Luke Shaefer. They used the World Bank's standard for poverty—$2 per person per day—to determine how many U.S. families currently live in extreme poverty. Their findings shocked them: In a given month, there are 1.5 million American families, including 3 million children that meet the criteria.
"This essential book is a call to action, and one hopes it will accomplish what Michael Harrington's 'The Other America' achieved in the 1960s—arousing both the nation's consciousness and conscience about the plight of a growing number of invisible citizens," wrote sociologist William Julius Wilson in his review of the book in the Sept. 2 issue of The New York Times Book Review. "The rise of such absolute poverty since the passage of welfare reform belies all the categorical talk about opportunity and the American dream."
The prestigious 100 Notable Books of 2015 list included fiction, nonfiction, and poetry titles selected by the editors of The New York Times Book Review. Book reviews have been published in The New York Times since 1896, and the 100 Notable Books of the year list is issued in the beginning of each December.