Zadie Smith has said her new novel, her first since 2012's NW, concerns itself with "tap dancing, blackness, and time." The author shared two chapters of the unpublished work Tuesday night with a full crowd at Johns Hopkins University.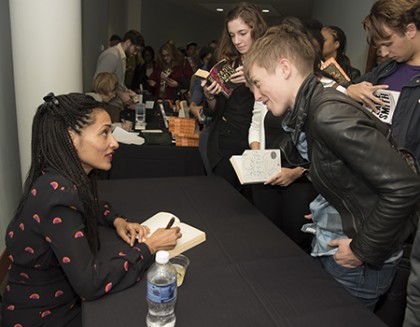 The forthcoming novel, Swing, Time, is about "two brown girls," Smith said—both biracial, both dancers, who grow up together in a poor London neighborhood but diverge in adulthood in the 1990s. The feistier one, Tracy, pursues dancing professionally, while the unnamed first-person narrator becomes a personal assistant to a pop star.
Swing, Time will be the fourth full-length work of fiction for the award-winning British author and essayist, who first vaulted to worldwide attention at just 24 with her debut novel White Teeth in 2000. The writer, now 40, is juggling a number of projects at the moment, including her second essay collection and a sci-fi movie script she's writing with her husband, poet Nick Laird.
Swing, Time, titled after a Depression-era Fred Astaire movie, is expected to be released next fall. Like many of Smith's works, the new book includes settings in the Northwest London borough where the writer grew up, and it explores her enduring fascinations with class and race. (Smith herself is half-Jamaican and was raised in British public housing before attending Cambridge University.)
Also see: Author Zadie Smith on family, freedom and facing the truth (The Baltimore Sun)
At the Hopkins event, part of the President's Reading Series, Smith flashed between humor and solemnity as she read passages that gave a sense of her protagonist. The character is timid and plain beside her friend Tracy's flamboyance; her black mother is a radical activist who achieves some prominence.
In one chapter, the narrator and Tracy attend a formative birthday party at age 10, which ends jarringly "with a lesson in sex and language." The second chapter finds the narrator at 19, at a second-rate college by the sea in England. She's entranced with the ideas, intellectualism, and drugs she finds there, and also with a passionate but deeply arrogant young man named Rakim.
Asked why she didn't name her narrator, Smith said she wanted to write this novel as "one fluid dream," in first person.
Though she said the book isn't autobiographical, she was influenced by a personal experience helping out for a stint at a homeless shelter in Northwest London. She found herself discussing a lot of conspiracy theories there, about the Illuminati for one. Smith said the idea of conspiracy, which she sees as "a symbol of a yearning for knowledge" in the absence of a formal educational structure, forms a thread throughout the novel.
Known for the steady strain of dry humor in her writing, Smith said, "I love to write dialogue—but it very quickly becomes very comic. I can't seem to control it. I use it in the book when I want to get laughs." As a kid, she said, she was "obsessed with comedy."
Asked about her non-writing jobs, Smith said she hasn't held many aside from teaching creative writing, which she has done at Harvard, Cambridge, and now at New York University. (She and her family currently divide time between New York City and London.)
"Basically, writing has been my life," Smith said. "I think writers should have jobs, but it just didn't work out that way for me."