About 400 seventh-graders from two Montgomery County middle schools examined brains, extracted DNA from strawberries, removed bones from owl pellets, learned about epidemiology, and tried their hands at forensics during the seventh annual Frontiers in Science & Medicine Day at the Shady Grove Life Sciences Center.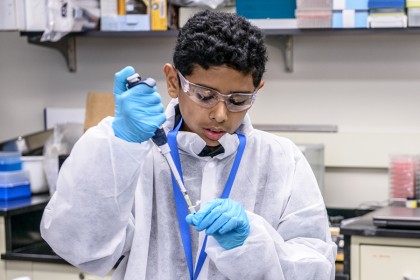 The collaborative event brings together Johns Hopkins University Montgomery County Campus and several organizations in the neighborhood to introduce seventh-graders to careers in science and medicine.
Students spent part of the day at Johns Hopkins, where they participated in hands-on science and medicine activities run by local science research organizations, museums, and colleges. They spent the other part of the day visiting a local laboratory or hospital so they could experience what doctors and scientists do each day.
The Johns Hopkins University Center for Biotechnology Education ran two lab tours on campus. In one, students in the wet lab learned how DNA is used in forensics as they conducted experiments to help identify who ate cat food in a mock scenario. In another, students learned about epidemiology and infectious diseases as they tracked the spread of a zombie virus at a mock carnival.
Biotech students pursuing master's degrees also ran several hands-on activities, including the strawberry DNA extraction and the owl pellet examination. Approximately a dozen biotech students volunteered their time to work with the younger cohort.
"The Frontiers in Science & Medicine event is an opportunity for our graduate students to share their passion for science with middle schoolers," said Kris Obom, director of the Center for Biotechnology Education and program director for Bioinformatics and Biotechnology. "Our students volunteer their time to teach the next generation of scientists. This near-peer mentoring is beneficial for both the middle-schoolers and our graduate students."
The lessons learned during Frontiers relate directly to the genetics unit under way in seventh-grade science classrooms in Montgomery County Public Schools.
Lab tours were held at Adventist Healthcare Shady Grove Medical Center, BioReliance, Blanchette Rockefeller Neurosciences Institute, Institute for Bioscience & Biotechnology Research, Johns Hopkins University Wet Lab, National Center for Advancing Translational Sciences Chemical Genomics Center, Sanaria, University of Maryland School of Nursing, and University of Maryland School of Pharmacy.
Other participants in the event were the Universities at Shady Grove, MDBio Foundation, Rockville Science Center, Montgomery College, J. Craig Venter Institute, Salisbury University, TruBios, Vaxin, and MedImmune.