Ruth R. Faden, an internationally renowned expert on biomedical ethics and founding director of the Johns Hopkins Berman Institute of Bioethics, will step down after two decades from her role as director.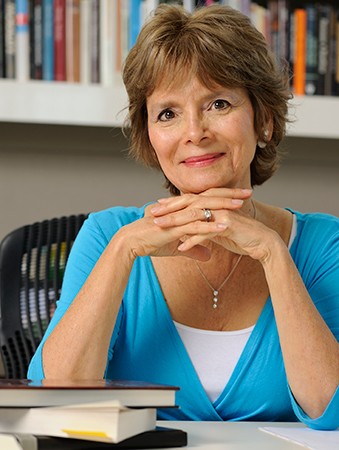 Faden will continue as director until June 30 and thereafter will remain with the university in her role as Philip Franklin Wagley Professor of Biomedical Ethics, JHU President Ronald J. Daniels and Provost Robert C. Lieberman announced in an email to faculty and staff today.
"Twenty years ago, Johns Hopkins formally recognized how important it is for scholars to think systematically and critically about the ethics of health care, public health, and biomedical and behavioral research," Daniels and Lieberman wrote. "The university reached that recognition largely because of one faculty member: Ruth R. Faden.
"Without Dr. Faden's vision, scholarship, determination, and leadership, what we know today as the Berman Institute of Bioethics would not exist. She is the institute's founding director, and her international reputation as a scholar and leader in bioethics has added great luster to the reputation of both the institute and the university."
With Faden as the driving force, the Bioethics Institute at Johns Hopkins was established in 1995, conceived and structured as a universitywide institute that would span the boundaries of existing academic divisions. In the years since, she has built the Berman Institute into a world-renowned center for consideration of moral and ethical issues in science, clinical care, and public health, both locally and globally.
As director of the Berman Institute, Faden built a faculty of more than 30 members from within JHU's schools of Medicine, Nursing, Public Health, Arts and Sciences, and, most recently, Advanced International Studies. She has helped create education and training opportunities in bioethics for students at every level and has mentored more than 50 postdoctoral fellows.
Faden worked with the Berman Institute's advisory board to establish a new home for the institute in Deering Hall, a historical landmark in East Baltimore. She has served on numerous national committees and advisory panels, and chaired the acclaimed and critically important White House Advisory Committee on Human Radiation Experiments.
Before the institute was established, Faden was renowned for her work as a bioethics scholar—including her influential book A History and Theory of Informed Consent, which she published in 1986 with her husband, philosopher Tom L. Beauchamp. She has continued to exert influence on both the theory and practice of bioethics, focusing her scholarly work primarily on questions of justice. Her book, Social Justice, with co-author Madison Powers, is considered a landmark in the field. So, too, is her work on justice in specific public policy contexts, including new biomedical technologies, threats to the public's health, allocation of resources, and the health interests of women. Faden is a leading voice in revising the moral relationship between research and practice to help bring about higher quality and more just health care systems, and in focusing attention on issues of justice in global food security.
Faden has been elected to the Institute of Medicine and awarded lifetime achievement honors by the American Society for Bioethics and Humanities and by Public Responsibility in Medicine and Research. Last year, she became the Berman Institute's Andreas C. Dracopoulos Director, the first leader of any bioethics center to hold an endowed directorship.
Information about a search for a new director for the Berman Institute will be made available in the weeks ahead, Daniels and Lieberman wrote.
"We are fortunate that Ruth will continue a fully active career, and we know she will remain a vital contributor to her field and to our university," they wrote. "On behalf of the entire Johns Hopkins community, and all of those worldwide who have benefited from her work, we offer our enormous thanks and admiration to Ruth, along with our best wishes for ongoing success."