What's the secret to building a spaghetti bridge that supports the weight of an official Olympic metal barbell?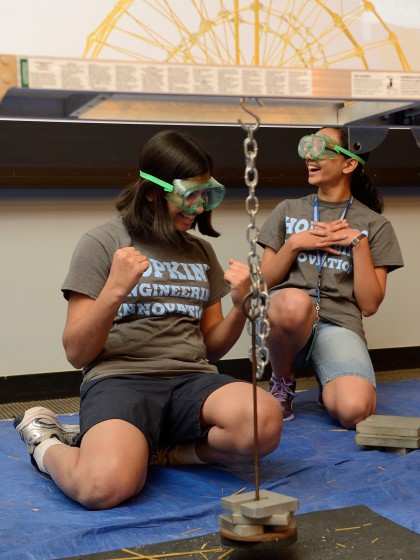 Maybe it's finding the perfect combination of cylindrical noodles, woven tightly together with epoxy or resin.
Sometimes, says competitor Sherrie Shen, it's the simplest load-bearing bridges that take home the win.
At the 10th annual Spaghetti Bridge Competition, hosted Friday at Johns Hopkins University's Homewood campus, 41 teams of high school students tasked with testing the strength of spaghetti squared off. In the front of a crowded auditorium in Hodson Hall, students carefully piled weights on the noodle bridges as if adding to a wobbly stack of Jenga bricks. Kilogram by kilogram, the audience cheered along until the pasta snapped, flying into the shielded faces of the aspiring engineers.
Also see: Teaching students to use their noodles (NPR)
A'hunna Key-Lows, the 13th team to take the stage, added weights, starting in 1-kilogram increments, to their structure as the audience fell silent. A suspenseful game show sound bite played in the background. Fifty two pounds later, the pasta splintered in the air and the crowd cheered for the No. 1 team.
The event caps the four-week Engineering Innovation program, which is designed to give rising high school juniors and seniors a taste of college-level engineering.
This year's program attracted students from across the U.S. and 15 other countries—China, Canada, Brazil, Colombia, Greece, the Dominican Republic, Puerto Rico, Mexico, Hong Kong, India, Turkey, Saudi Arabia, Switzerland, Taiwan, and the United Arab Emirates.
Students complete lab activities in computer engineering, chemical engineering, electrical engineering, material science, civil engineering, robotics, and mechanical engineering, all while working on the spaghetti bridges during their spare time. Shen and her team, Pasta People, built not one but three bridges in preparation for the competition.
The students spend hours building the bridges after learning about trusses and other sturdy structures in the classroom. There are requirements, of course, and the groups are penalized if their bridges are too high or overweight.
One of the goals of the Engineering Innovation program is to introduce participants to the possibilities of a career in engineering, math, or science. Shen, after her four weeks at Johns Hopkins, said she still aspires to be an engineer.