Nine different players scored goals and senior goalkeeper Eric Schneider repeatedly came up big in net as the Johns Hopkins men's lacrosse team pulled away for a 13-6 win against Ohio State on Saturday night in the inaugural Big Ten Conference championship game at Maryland's Byrd Stadium.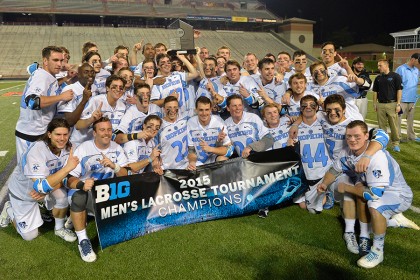 By winning the conference championship, the Blue Jays (9-6) earned an automatic bid to the 18-team NCAA tournament. Tournament pairings will be announced Sunday night beginning at 9 p.m. on ESPNU.
Update: Hopkins draws Virginia in first round
Hopkins, the tournament's top seed, scored the game's first four goals and led 6-3 at halftime, then outscored the Buckeyes (11-6) 5-0 in the third quarter to put the game out of reach. Holden Cattoni led a balanced attacked with three goals, John Crawley and Ryan Brown added two apiece, and Wells Stanwick had a goal to go with four assists.
Also see: Box score
At the other end of the field, Schneider finished with 11 saves, including six in the first quarter. Senior Michael Pellegrino caused six turnovers and picked up five ground balls to lead a defense that also got strong efforts from defensemen Nick Fields, John Kelly and Nikhon Schuler.
Stanwick was named the tournament's MVP and was joined on the all-tournament team by Cattoni, Pellegrino, and Schneider.
Johns Hopkins has won five consecutive games and six of its past seven, with the only loss in that span a 15-12 loss against Buckeyes on April 5 in Columbus, Ohio.
Read more from hopkinssports.com