In Tanzania for an internship last summer, Miguel Dias found himself spending a lot of time in smoke-filled rooms. Residents would often cook indoors using charcoal, and the smoke would saturate the small spaces. Not accustomed to it, "in just five minutes, I'd already feel faintish," said Dias, a Johns Hopkins University sophomore studying biomedical engineering.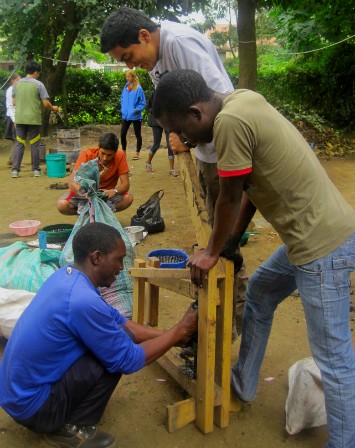 Around the same time, Violet Ayoub, his internship director, told him about a relatively new innovation happening in Kenya—smokeless fuel briquettes made from agricultural waste. Several developing countries were experimenting with the briquettes as a cheaper, healthier, more environmentally friendly alternative to charcoal.
Using his engineering knowledge, Dias took his own approach to the technology, working with a team to design a new briquette-burning kiln model from an oil barrel. Ayoub let him set it up in extra space behind the headquarters of her NGO, Visions For Youth. With that, the two of them recognized a new venture in the making.
That venture, called Bright Energy Africa, now has recognition on a larger scale—and startup money to begin producing the briquettes. Last month, Dias and the team he recruited back at Hopkins—fellow Whiting School of Engineering sophomores Samantha "Yu" Wang and Yadel Okorie—were among the winners of the 2015 Social Venture Challenge at the Clinton Global Initiative University.
The competition received nearly 200 applications, and two dozen teams earned awards. The Hopkins team got $5,000 in seed funding, the highest amount awarded, along with ongoing networking and mentorship opportunities with industry leaders.
The big picture for Bright Energy Africa is ambitious: an enterprise that could create hundreds of jobs in Tanzania, with micro-franchises of the briquette centers set up in rural communities. Ultimately, Bright Energy Africa could be "100 percent owner-controlled in Tanzania," Dias says.
The briquettes could help preserve the environment, reducing the deforestation required for creating charcoal and wood fuel and making use of discarded farm products that are currently just burned. The smokeless briquettes could also improve health, reducing carbon monoxide and other harmful byproducts of the current cooking methods. "It'd be a very big impact on their lives," Dias says.
When he returned to Baltimore at the end of last summer, Dias turned his focus to the business plan. Okorie, a mechanical engineering major, helped on the financial side, and Wang, an electrical engineering major, worked on marketing. From Tanzania, Ayoub contributed through email and Skype sessions.
For the next several months, the goal is to use the $5,000 in seed funds—which Dias says goes a long way in Tanzania—to get the pilot production plant up and running in Arusha. The team is also working on other fundraising angles and entering other competitions.
The Social Venture Challenge, hosted by the Resolution Project, is an international business plan competition for undergraduates that is designed to inspire solutions to pressing social issues. The Hopkins team received its award last month at the annual Clinton Global Initiative University conference, held at the University of Miami in Coral Gables, Florida.