David Andrews has been appointed to a second five-year term as dean of the Johns Hopkins University School of Education, effective July 1, 2015. In a message to the community today, President Ronald J. Daniels and Provost Robert C. Lieberman said Andrews' vision, leadership, and commitment to improving the wider community are important assets to the school.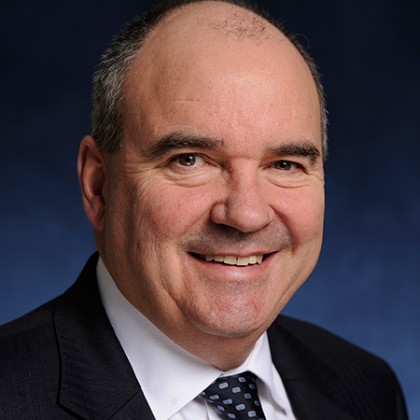 "Over the last five years, the School of Education has made truly remarkable progress in achieving its critical aspirations, and David has been a key component of that growth," the president and provost said in in their message.
Andrews brought two major research centers into the School of Education and recruited world-class researchers, including one of the first Bloomberg Distinguished Professors in partnership with the Krieger School of Arts and Sciences. He oversaw the development and launch of the school's first PhD program—which provides talented scholars with full tuition support as well as stipends—to complement the long-standing, practitioner-focused EdD program. The school also created a new online part-time EdD program and expanded its long-standing partnership with Teach For America.
The growth in research funding and faculty recognition helped propel the School of Education to number one in U.S. News & World Report's ranking of graduate programs in education for two consecutive years.
During Andrews' tenure, the School of Education helped establish and began operating the Henderson-Hopkins school in East Baltimore. This school offers research-based K-8 program development, a creative learning environment, and teacher training.
That effort "epitomizes the School of Education's mission and David's essential belief in this university's commitment to community," Daniels and Lieberman said.
Andrews also led the school's efforts, in partnership with other Johns Hopkins divisions, to develop, implement, and fund two universitywide signature initiatives of the Rising to the Challenge campaign: the Science of Learning Institute and the 21st Century Cities Initiative.
During the reappointment evaluation process, external reviewers said Andrews' leadership has helped advance a research agenda that "has the potential to bring great esteem to the university and address some of the nation's significant problems in education."