Johns Hopkins University students are invited to attend a special free screening next week of Selma (2014), the Oscar-nominated historical drama that chronicles the campaign by Martin Luther King (David Oyelowo) and others to secure equal voting rights with a peaceful protest march from Selma to Montgomery, Alabama, in 1965. Their actions ultimately led to the Voting Rights Act of 1965, a landmark piece of legislation that prohibits racial discrimination in voting.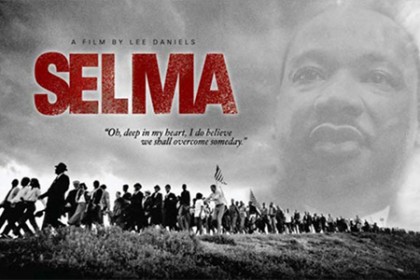 Selma—directed by Ava DuVernay and produced by Christian Colson, Oprah Winfrey, Dede Gardner, and Jeremy Kleiner—was recently nominated for two Academy Awards, for Best Picture and for Best Original Song for "Glory," performed by John Legend and Common (music and lyrics by John Stephens and Lonnie Lynn). View trailer
The screening will take place on Wednesday, Feb. 11, at the Charles Theatre in Baltimore beginning at 7 p.m.
Following the film, Johns Hopkins Provost Robert C. Lieberman will lead a panel discussion and Q&A session on the historical context of the movie with two prominent guests: Taylor Branch, a 2014 Johns Hopkins honorary degree recipient and Pulitzer Prize-winning author best known for his landmark trilogy on the civil rights era, America in the King Years; and Nathan Connolly, assistant professor of history at Johns Hopkins, co-director for the Program on Racism, Immigration, and Citizenship, and author of A World More Concrete: Real Estate and the Remaking of Jim Crow South Florida.
Refreshments and transportation to and from the Charles Theatre will be provided. Buses will depart from the circle in front of the Milton S. Eisenhower Library; students can start boarding the buses at 6:15 p.m., and the last bus will depart at 6:30 p.m. Due to seating capacity at the theatre, tickets are limited, so those interested in attending must sign up online in advance.
This special event is sponsored by the Office of the President, the Office of the Provost, the Black Student Union, and the Student Government Association.