For the third year, the efforts of Johns Hopkins' Office of Work, Life and Engagement earned a Seal of Distinction from the WorldatWork Alliance for Work-Life Progress. This year, the university and health system received the added distinction of an Innovation Excellence Award for their breastfeeding support program.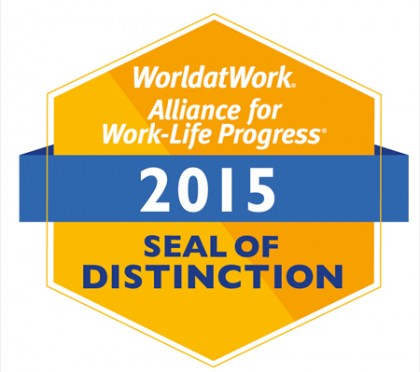 "It is a testament to our program that the list of winners includes not only fellow universities but also huge government agencies and major national corporations," says Michelle Carlstrom, senior director
 of Work, Life and Engagement. "We are proud to be among the leaders in helping our employees achieve success at work and at home."
In total, 77 organizations were honored for offering excellent services across a number of categories, including caring for dependents, health and wellness, workplace flexibility, economic security, time off, community involvement, and organizational culture. Only two organizations received the innovation award, which the alliance calls its highest honor for companies that implemented "creative, forward-thinking programs to enrich the lives of employees while achieving organizational goals."
The breastfeeding support program, established in 2011, offers 14 mother's rooms on various campuses and provides online and in-person consultations. Last year the program developed a vending machine for breastfeeding supplies that is believed to be the first of its kind.
"Our mother's rooms supported 20,000 visits last year," Carlstom says. "We know that supporting nursing mothers when they return to work benefits the baby, employee, and organization. We hear from employees and managers alike about the ways in which they have succeeded in supporting high quality work with breaks to express breast milk."
Family support is just one area addressed by the Office of Work, Life and Engagement. That office also oversees the Faculty and Staff Assistance Program, offers lunchtime workshops on financial, parenting, health and other topics, and runs the Live Near Your Work Program. It is the home for employee recognition programs and connects employees to community engagement opportunities. More information is available at hopkinsworklife.org.