A Johns Hopkins employee's aha moment has become a good thing for the hospital's working moms who are breastfeeding their babies.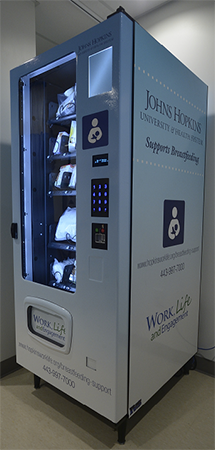 A new vending machine in a mother's room in the hospital's Nelson building sells nursing pump accessories, storage bottles, breast pads, and nipple cream, among other supplies, according to a story in The Baltimore Sun.
The ingenious machine is believed to be the first of its kind, thanks to its inventor, Meg Stoltzfus, Lifespan Services manager for the Office of Work, Life and Engagement in the university's Human Resources department.
Stoltzfus told The Sun that she was inspired by a stroll through an airport, where vending machines sell all sorts of things, 24/7. It made her think about how the moms on staff often work odd hours and might have forgotten to bring a critical piece of pumping paraphernalia when the hospital gift shops are shuttered for the night. (For the uninitiated, pumping at work without one of the crucial valves, tubes, or storage containers can be a deal-breaker.)
Software linking the machine and Stoltzfus' computer allows her to monitor inventory from her desktop, which can save trips to restock. As an added benefit to employees, the items in the machine are sold at a discount, and credit and debit cards may be used to buy. If the machine becomes popular, others like it could be installed in the 13 other dedicated nursing rooms throughout Johns Hopkins.
The vending machine is part of Hopkins' Breastfeeding Support Program, which helps maintain the mother's rooms with hospital-grade pumps. The program provides support to mothers returning to work who want to continue breastfeeding, and to supervisors who have employees needing to express breast milk. In the past year, there were almost 23,000 visits to Johns Hopkins Mother's Rooms, yielding close to 23,000 meals for babies.