They may just be learning how to read and do basic math, but the 27 first-graders in Amy Wood's class at Roland Park Elementary/Middle School took to a lesson in computer coding like the proverbial ducks to water.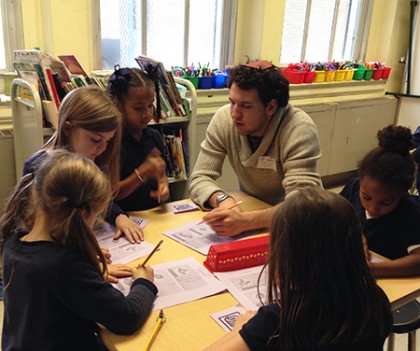 "I get it! I know how to do all of this!" shouted one little girl, leaping out of her seat with such excitement that her ponytail swung like a pendulum.
The lesson, taught by four Johns Hopkins University computer science majors and their professor, was part of last week's international "Hour of Code" event aimed at celebrating Computer Science Education Week (which ran from Dec. 8 through Dec. 14) by introducing people of all ages and walks of life to computer science.
"The purpose of 'Hour of Code' is to increase awareness of computer science and show people that computer science and coding is not just for certain people: it's for people of all ages and all grade levels, including first-grade," said Sara Miner More, associate teaching professor in the Department of Computer Science at the university's Whiting School of Engineering.
More (accompanied each time by three or four Hopkins' computer science majors) visited the local school on four occasions last week, introducing all 110 first-graders to coding through a fun, intuitive program called "Lightbot," which tasks students with using symbols to help a cute little cartoon robot travel up and down steps and turn on lights.
"They're basically learning coding, which is telling a computer what to do," said Adam Poliak, a JHU junior. "It's like baking: there's a recipe that tells you to put in 'x' amount of flour and 'x' amount of sugar to get the result you want. That's what coding is: a recipe to make the computer do what you want."
But for Wood's students, it was all about fun.
"I want to do this again!" exclaimed a small boy as he exited the room.
Their teacher was enthusiastic, too.
"We try to do a lot of hands-on-type activities in this classroom, so this fit right in," said Wood, who teaches STEM enrichment for the elementary school. "Coding is the future, so making sure they are exposed to it now is very important."