Freshman mechanical engineering students from the Johns Hopkins Whiting School of Engineering engaged in a fierce but fun competition Wednesday afternoon, a challenge that has become an annual rite of passage: the Mousetraps and Rubber Bands contest.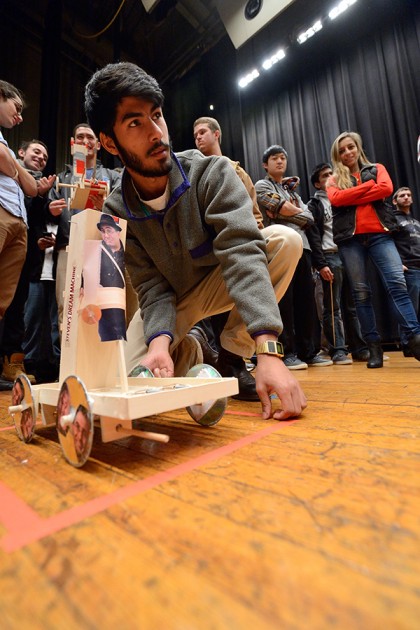 Held in early December on the stage at Shriver Hall, the contest—the final assignment in their Freshman Experiences in Mechanical Engineering course—challenges teams of students to use two mousetraps, six rubber bands, and $15 worth of materials to design and build a vehicle that performs a certain task.
This year's task required the vehicles to travel six feet from the starting box along the stage to a 6-foot-tall, 4-foot-wide barrier, over which the device then had to launch a 7-ounce salt-filled balloon.
"No motors or batteries are allowed," said Steven Marra, senior lecturer and instructor for the course, who dubbed this year's contest "The Big Barrier Battle of Baltimore." "They have to figure out the best way to convert potential energy into kinetic energy to accomplish the task at hand."
Twenty-six teams battled it out for about an hour until Kyle Doran, Connor Joyce, and Brendan Szuwalski emerged victorious.
"To tell the truth, in our design, the mousetraps were useless," Szuwalski confessed. "We ended up just having them there to anchor the rubber bands, which provided all the energy. But I guess it worked!"
Marra was pleased with the creativity and design of this year's competitors.
"This is the first experience many of our incoming engineering students have in actually designing and building something," he said. "It sets the stage for several increasingly more advanced design projects they will complete during their engineering education at Johns Hopkins."