There were about 15 marriage proposals on Johns Hopkins University's Homewood campus this past weekend, all of them coming from well-to-do Frenchmen pursuing a muscular heiress in the Barnstormers' staging of Is He Dead?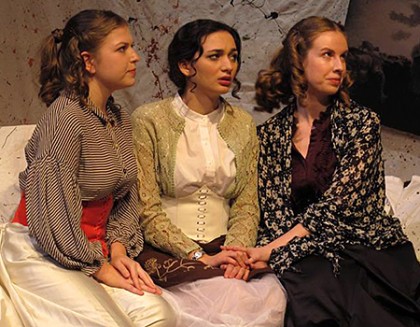 In the recovered Mark Twain play, French painter Jean-François Millet (played by Ramanujan Srinath) figures out that an artist's works are much more valuable after he has died. In an effort to get a step ahead, Millet and his gang of international cohorts fake his death, and he disguises himself as his widowed sister, Daisy Tillou (pronounced "Daisy to-you"). Millet and his gang try to dupe the Parisian art community by jacking up the prices of his paintings to secure the well-being of his family and friends.
Though he wrote the play in 1898, Twain never had it produced. It sat in an archive of his papers at the University of California, Berkeley, until Shelley Fisher Fishkin, a Twain scholar, decided to publish the play in book form. In 2007, David Ives adapted the play for Broadway. The premiere garnered favorable reviews but only ran for 105 performances. Twain is not well-known for his work in the theater—in fact, Is He Dead? is his only known play. Nonetheless, the play excites, layering Twain's satiric eye with Ives' penchant for the silly and playful. The Barnstormers staged six performances of the show in October and November at the Swirnow Theater.
Aside from indicating an underappreciation for living artists, the play has a very modern take on gender roles and sexuality. Much of the action concerns itself with how men and women are expected to behave. Millet's smooth-talking accomplice, Chicago (played by Ian Stark), constantly asks Daisy to be a grieving widow in order to peddle Millet's artworks. In doing so, Millet eventually masters all the obstacles a 19th-century lady had to confront—sitting in a hoop skirt without flashing anyone (including the audience), for example; or learning not to speak out of turn; or refraining from smoking cigars.
Millet receives an impromptu lesson in the ways of ladies from his friends Duchy (played by Eric Lorentz) and O'Shaughnessy (played by Brian McConnell), who instruct him how to properly hold his skirt as he sits down. Duchy and O'Shaughnessy earnestly propose their methods, complete with rough German onomatopoeia from Duchy and calm and composed sighs from O'Shaughnessy. Millet adapts these moves in his collection of lady-isms, visibly recalling the lessons each time he sits down.
The internationality of Millet's entourage shows that these male and female "norms" aren't specific to Paris but to Western culture in general. As the play proceeds, Millet becomes a concoction of what he and his friends think a lady should be and the "masculine" self that he cannot help but reveal. Twain and Ives demonstrate how women are restrained in the types of things they are allowed to do and in how they are expected to comport themselves. Similarly, the authors show how it is important and fruitful for men to be in touch with their feminine sides (though it is unclear whether this social commentary derives from Twain being progressive or from Ives adding this commentary retrospectively).
The players are progressive, too, in that they appear to value an individual's personality over superficial considerations. The villain of the play, Andre (played by Richard Kidney), fails to realize this distinction. He initially falls for Daisy because of her charm and wit, but drops his proposal to her when she suggests to him that about 95 percent of her body parts are fake. The opposite of Andre's shallow reaction is Millet's pursuit of Marie Leroux, his would-be fiancée (played by Rebecca Van Vorhees). And the same charms that drew Marie to the artist Millet now make her fall for the disguised Millet, showing how love can easily transcend gender boundaries.
Is He Dead? sometimes runs at a pace seemingly faster than its characters can handle but allows for moments of both self-critique and self-deprecation. The characters repeatedly break the fourth wall to key the audience in to the action or to make quick jokes. A running joke is that Duchy eats a German cheese that is so revolting no one can stand its being out in the open. Duchy defends the cheese as if it were his own country, and then says, "That's not even the Würst of it," brandishing a sausage from his pocket. By having Duchy turn and wink at the audience with sausage in hand, Twain, Ives, and the Barnstormers teach us that it's a person's differences and peculiarities, the weird things they love, that make us not only tolerate them but enjoy and love them.
If there is a single message the Barnstormers convey in this show, it is that the process and people involved in making a piece of art are just as important as the end product. One could easily tell that everyone from the producer to the stage hands had fun bringing this fantastic and relatable world to life. And fortunately, they didn't need to fake any deaths to make this an appreciated work of art.