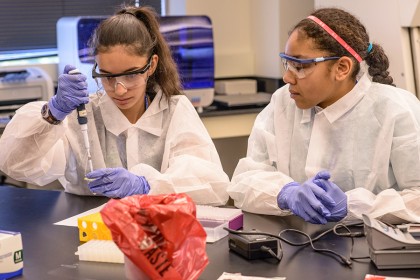 Approximately 700 young scientists spent the day at the Johns Hopkins University Montgomery County Campus learning about epidemiology as they tracked a zombie virus, using DNA to figure out who stole Fluffy's cat food, and calculating the cost of bringing a drug to market by counting real beans.
The activities were part of the sixth annual Frontiers in Science and Medicine Day at the Shady Grove Life Sciences Center. The collaborative event brings together Johns Hopkins and other organizations in the neighborhood to introduce Montgomery County Public Schools seventh-graders to careers in science and medicine.
"At Johns Hopkins University, we believe in exposing students to science and medicine at a young age," said Leslie Ford Weber, director of campus, government, and community affairs for Johns Hopkins in Montgomery County. "Frontiers in Science and Medicine Day does exactly that. During Frontiers, seventh-graders get to experience science in a different way than they do in the classroom. All of the lessons are hands on. They use real science equipment, such as microscopes and pipettes, and visit real science labs. They see the settings where medical and scientific professionals work every day."
Also see: Montgomery County Public Schools video
Students spent part of the day at Johns Hopkins, where they participated in hands-on science and medicine activities run by local science research organizations, museums, and colleges. They spent another part of the day visiting a local laboratory or hospital so they could experience what doctors and scientists do each day.
The Johns Hopkins University Center for Biotechnology Education ran two lab tours on campus. In one, students in the wet lab learned how DNA is used in forensics as they conducted experiments with DNA to help identify who ate the cat food in a mock scenario. In another, students learned about epidemiology and infectious diseases as they tracked the spread of a zombie virus at a mock carnival.