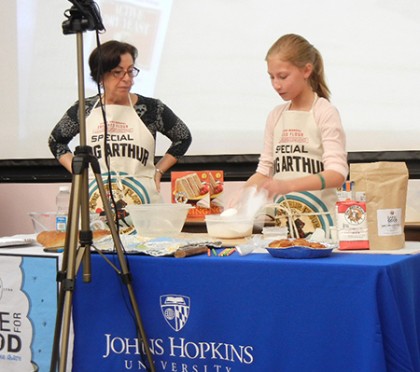 Osher students are dough-nating for a good cause.
Last week, students in the Osher Lifelong Learning Institute at Johns Hopkins University were treated to a demonstration on the finer points of bread baking. The demonstration, led by King Arthur Flour, was a fun, interactive tutorial on the chemistry of bread baking, the differences among wheat flours, and kneading and shaping techniques.
The Osher students were sent home with flour, yeast, a dough scraper, and a recipe booklet—all donated by King Arthur Flour—plus a homework assignment: Bake two loaves of bread, and bring one back to Johns Hopkins University Montgomery County Campus. That loaf, in turn, will be donated to the upcoming Interfaith Works Empty Bowls dinner.
Empty Bowls is part of an international grassroots movement to fight hunger. Empty Bowls and Interfaith Works collaborate to fight hunger in Montgomery County.
"Participation in this event is another example of how our Osher members love to contribute to the community while also learning and having fun," said Mary Kay Shartle Galotto, director of Osher at JHU. "Many generous members have brought their grandchildren to learn about bread making and have also donated time and funds to Empty Bowls. This is a terrific collaborative opportunity."
Osher provides educational courses and a social environment for retired and semi-retired adults. Approximately 700 Osher students take courses at the JHU campus in Rockville, Md.
The Interfaith Works Empty Bowls event will be held Thursday at the Julia Bindeman Suburban Center in Potomac. Johns Hopkins University Montgomery County Campus is a program sponsor.
Each attendee at the dinner will partake in a modest meal (including the bread baked by Osher students) and take home a hand-crafted bowl to serve as a reminder that hunger and homelessness are problems in Montgomery County.