Gwendolyn E. Boyd, an engineer who spent 33 years at the Johns Hopkins Applied Physics Laboratory, will be inaugurated today as the 14th president at Alabama State University in Montgomery, Ala.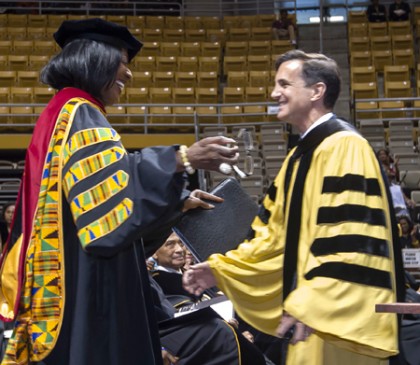 The inauguration ceremony for Boyd, who became president at her alma mater in February, began at 11 a.m. at the Dunn-Oliver Acadome on the Alabama State campus.
"I am thrilled to be here at Alabama State University today to celebrate Gwen and this milestone in her trailblazing career," said Johns Hopkins University President Ronald J. Daniels, who delivered brief remarks at the inauguration ceremony. "Gwen made an indelible impact on Johns Hopkins as a leader, colleague, and advocate for diversity across our university. I know she will bring the same vision, excellence, and humanity to her leadership at ASU."
Also see: Gwendolyn Boyd inaugurated as ASU's14th president (Mobile Advertiser)
Alabama State University was founded in 1867, in Marion, Ala., as a school for African-Americans. The school started as the Lincoln Normal School with $500 raised by nine freed slaves now known as the Marion Nine, making ASU one of the nation's oldest institutions of higher education founded for black Americans.
Prior to her departure from Johns Hopkins, Boyd most recently served as executive assistant to the chief of staff at APL. She was also chair of the university-wide Diversity Leadership Council, a post she had held since 2001.
Also see: Boyd inauguration ushers in 'new season' of leadership, excellence (Alabama State University)
In 1979, Boyd became the first black woman to graduate with a degree in mechanical engineering from Yale. She also holds a bachelor's degree in math from Alabama State and a master's degree and a Ph.D. in divinity from Howard University in Washington, D.C.
A nationally recognized champion of education, Boyd has spearheaded efforts in the U.S. and abroad to help broaden the scope of educational offerings, especially in the STEM disciplines. Because of her efforts, Boyd was nominated by President Barack Obama and received U.S. Senate confirmation to serve as a trustee to the Barry M. Goldwater Scholarship and Excellence in Education Foundation in 2009.
On Jan. 16 of this year, President Obama announced his intent to appoint Boyd and 14 others to the President's Advisory Commission on Educational Excellence for African-Americans. The Commission is charged with improving educational outcomes for African-Americans and ensuring that all African-Americans receive an education that prepares them for college, productive careers, and satisfying lives.
Boyd also has served as the national president of Delta Sigma Theta sorority, where she was known as the "Technology President" for her innovative integration of technology into the organization's activities. She is a minister and an ordained itinerant elder in the AME Church.