A team of Biomedical Engineering undergraduate students from Johns Hopkins recently won the 2014 Design by Biomedical Undergraduate Teams (DEBUT) Challenge for developing a device that aims to help surgeons safely and accurately place screws during spinal fusion procedures and surgeries for spinal abnormalities.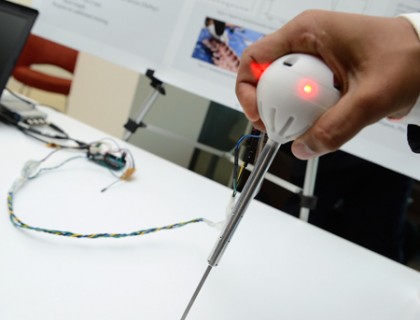 The AccuSpine pedicle probe was designed by eight undergraduates: Clay Andrews, Eric Xie, Adarsha Malla, Bradley Isaacs, Anvesh Annadanam, Erica Schwarz, Ravi Gaddipati, and Luis Herrera. Their project began in July 2013 as part of a Center for Bioengineering Innovation and Design design team class. Their goal was to address a clinical need for an effective guidance system for the safe and accurate placement of screws.
Judging for the competition was based on four criteria: the significance of the problem being addressed; the impact on clinical care; the innovation of the design; and the existence of a working prototype. The Johns Hopkins BME design team received the $20,000 first prize in the competition, which was conducted by the National Institute of Biomedical Imaging and Bioengineering (part of the National Institutes of Health).
The team worked through several prototypes, conferring with spine surgeons at Johns Hopkins Hospital, before arriving at the current model. The result is the AccuSpine pedicle probe, a self-contained solution designed to enable safe and accurate pedicle screw placement by providing real-time feedback to the surgeon. The device uses vibration and flashing LED lights to warn when a breach is detected. It offers peace of mind in the operative outcome, a higher standard of care, and reduced intra-operative radiation exposure.
The spine surgeons the group worked with included Chetan Bettegowda, assistant professor of neurological surgery; Sheng-fu "Larry" Lo, assistant resident, neurosurgery; A. Jay Khanna, professor of orthopedic surgery and biomedical engineering; Allan Belzberg, associate professor of neurological surgery; and Ziya Gokaslan, professor of neurological surgery.
In addition to taking first place in the DEBUT Challenge, the team has won first place in the CalState Fullerton Business Plan Competition, first place at the Johns Hopkins Business Plan Competition in the medical technology undergraduate category, and first place at the Drexel Business Concept Competition. The team also received the Dr. Abdi Zaltash award for technology that shows great promise at the ASME Innovation Showcase.
The team has formed a startup medical device company, White Light Medical, and seeks funding through grants and investors in order to begin production of a cost-efficient AccuSpine probe.