Allen Grossman, an award-winning poet who joined Johns Hopkins University's English Department in 1991 as the Andrew W. Mellon Professor of the Humanities, died last week in Chelsea, Mass. He was 82.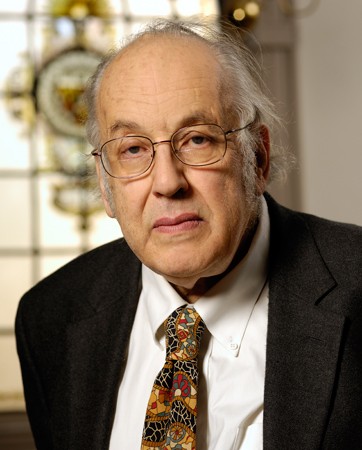 In its obituary, The New York Times said Grossman's work "bridged the Romantic and Modernist traditions, claiming nobility and power for poetry as a tool for both engaging the world and burrowing into the self." More from The Times:
Mr. Grossman, who was typically referred to as a poet's poet, was also a scholar, a critic and a teacher. His poems, brainy and lyrical and often written in a voice that might be described as conversationally academic, are replete with referents, redolent of intellectual yearning and proudly high-minded, recalling Keats and Yeats, Byron and Hart Crane, Coleridge and Wallace Stevens. His subjects were large ones—love, mortality, the nature of humanity, the purpose of art in general and poetry in particular—and though his work was always serious and often self-consciously grand, he also mixed lofty rhetoric with antic humor or sly wit and wrote with personal detail about people he knew.
Grossman was the author of 11 book of poetry, most recently True-Love: Essays on Poetry and Valuing (2009), and won numerous awards, including a MacArthur Foundation fellowship—the so-called genius grant—in 1989. He was elected a fellow of The American Academy of Arts and Science in 1993 and, in 2009, received the Bollingen Prize, which is given every two years by the Beinecke Library at Yale and is among the most prestigious honors for an American poet.
"A distinguished teacher of poetics and literature, Grossman has influenced three generations of American writers," the three-person panel of judges said of the 2009 award. "He has characterized the lyric poet as an individual who, 'by means of this art, seeks to speak with the utmost seriousness about the totality of what he experiences,' and Grossman himself has been refreshingly restless in that pursuit. In 'Descartes' Loneliness,' he achieves a precarious balance between an aspirational vision and close attention to the world at hand. The poems progress with comic flair, dramatic inquiry and, at times, rage, through remembrance toward understanding. The figure they make is large and difficult, and the results are wholly singular. Carrying a weight that is rare in contemporary poetry, their music provides a deep-seated solace to their stark sentence."
Grossman was born in 1932 in Minneapolis, Minnesota, and attended Harvard (with interruptions) from 1949-1956, where he received his bachelor's and master's degrees. He earned his PhD in 1960 from Brandeis, where he taught from 1957 to 1991. He joined Johns Hopkins in 1991 and taught until his retirement in 2006.
"Allen was a charismatic teacher, beloved by generations of students," said Sharon Cameron, the William R. Kenan Jr. Professor of English at Johns Hopkins. "His astonishing classes and his unstinting generosity with his time, his ideas, and his attention to students' work and their well-being changed people's lives. Allen's giant stature also included his great capacity for friendship, and his wisdom as a colleague. He will be remembered with love by all in the Hopkins community, past and present, who knew him."
Grossman told the Gazette in 2009 that of all the honors he received during his career, he was most proud of his teaching awards, including a Distinguished Faculty Award from his Johns Hopkins students in 1999.
"I've never taught writing poetry as if it were a formal course; I don't believe in that," Grossman said in a 2008 interview with Publishers Weekly. "I've always taught the reading of poetry."