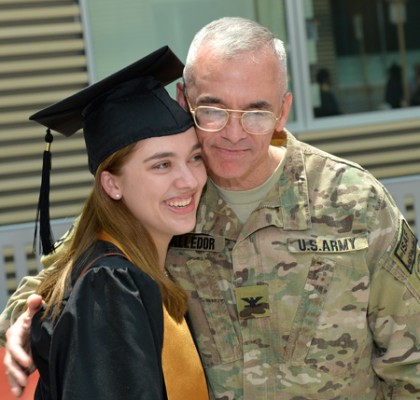 Amanda Valledor had to wait a few extra minutes to pick up her diploma. The delay was worth it.
Because when commencement volunteers sorted out the "problem" with her "misplaced" bachelor's degree after the Johns Hopkins University's graduation ceremony Thursday, the "staffer" who brought out the missing parchment was the father she had thought was 6,800 miles away. Serving in Afghanistan.
"Did you see her face?" Col. John Valledor laughed afterwards. Yup. It was a jaw-dropping moment.
Actually it was more of a hear someone say he found your diploma, turn to face him, realize he's wearing camo, realize he's a soldier, remember your Dad's a soldier, realize HE'S YOUR DAD sort of jaw-dropping moment. All that was pretty clearly visible passing over Amanda's face in less than a second, and then she just dissolved and grabbed him.
"They told me he was going to be short by a few weeks," the new biomedical engineering graduate said a few minutes and a few tears later. The shock had begun to wear off a little, but she was still pretty dazed. "I guess it all worked out."
She hadn't heard the whole story yet, but it worked out thanks to a little help from the Army. Col. Valledor was finishing up a year in Kabul, doing strategy and policy planning on the headquarters staff at ISAF, the U.S.-led International Security Assistance Force in Afghanistan. But he wasn't due to return to the United States until next month, too late for Amanda's big day.
About two months ago, however, his bosses figured out a way to let him return stateside a little early. Amanda's mother, Joanne, and her two brothers and sister then mobilized with military precision and utter secrecy to get the colonel to Baltimore. The graduate never suspected a thing. There was even a disinformation campaign: The night before commencement, Col. Valledor sent his daughter an email message "from Afghanistan" saying how sorry he was to miss her graduation.
Col. Valledor says his daughter is a "really cool person," and one of at least three engineers among his four children (we'll see about the fourth). At Johns Hopkins, she's helped to run the Maryland Science Olympiad for middle and high school students interested in science and engineering. She's been an RA and an officer of the Society of Women Engineers.
She and her father had not seen each other since March 2013, and have communicated mostly by email—the wi-fi in Kabul is unreliable and Skype conversations are very difficult, the colonel says.
But there he was Thursday, wearing his Army camouflage and jump boots, his ISAF patch and Ranger tab. And there she was, with her cap and gown, as proud of him as he is of her.
"I'm a soldier," the 33-year Army veteran said. "All you hear in the news is about bad leadership. I went to the Army to ask for the opportunity to share this moment with my daughter, and they allowed me to come. How's that for good leadership?"