Remarks as prepared for Johns Hopkins University senior class president Sean Glass for the universitywide commencement ceremony on May 22, 2014.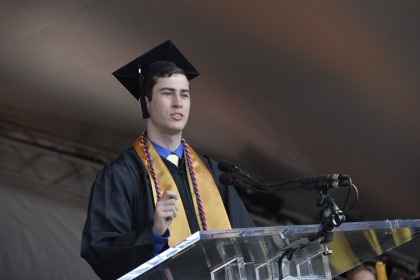 A quarter of the way through the journey of our lives, we decided to attend one of the greatest universities in the world. When we first arrived, we were nervous about the challenges but excited about the opportunities that we would have here. Today, dressed in our caps and gowns, we proudly represent the Class of 2014 of the Johns Hopkins University. Congratulations to you all!
Of course, none of this would be possible without the guidance of our mentors. To our parents, thank you for sacrificing the time, energy, and money to ensure that we had the best possible future. To our advisors, your calm reasoning helped us to overcome every obstacle. To our teachers, thank you for understanding when we were late on an assignment, and to the teachers who didn't understand, thank you for teaching us that we can't procrastinate in the real world.
Finally, a special thank you is in order for our friends. Some say that the many small communities at Hopkins form the larger, overall community. For me, members of the swim team, the student government, film society, and Greek Life were the ones who defined my experiences here. To those friends, thank you for pushing me to succeed, for supporting me when I needed it the most, and for hanging out with me at 3 a.m. at UniMini. Graduates, I challenge you to thank the friends who shaped your experiences at Hopkins. Since you're all on your phones anyways, take a second to text the person who has guided you the most here at Hopkins.
Looking back, I see each year as similar to one of the floors in the library. If you're unfamiliar with our library, the first floor, "M level", is on ground level and each succeeding floor descends deeper underground. Freshman year was like studying on M level. Instead of studying, we made new friends and checked out the cutie from Chem 101. Sophomore year was similar to the next floor, "A level", in that we grouped together and thought about how we're going to use the resources at this great university to shape the world's future. By junior year, we metaphorically descended to "B level." We studied alone, and our passion for our work took a central role in our lives. In our senior year, we were like the students on "C level." We published award-winning papers, found top-tier jobs, coded websites, started companies, and built robots. We innovated, created, and prospered.
Then there's "D level," where students get glares for opening their backpacks too loudly. Here, graduate students worked tirelessly to change the discourse of their respective fields. The qualities that are represented through our journey down the levels of the library, namely determination, innovation, persistence, patience, and passion, are what defines the Class of 2014 and are what will guide our success in the future. It is my honor to present to you the Class of 2014.