Johns Hopkins is among the 332 most environmentally responsible colleges in the U.S. and Canada, according to The Princeton Review, which published its annual "Green Colleges Guide last week. The free guide can be downloaded on The Princeton Review's website.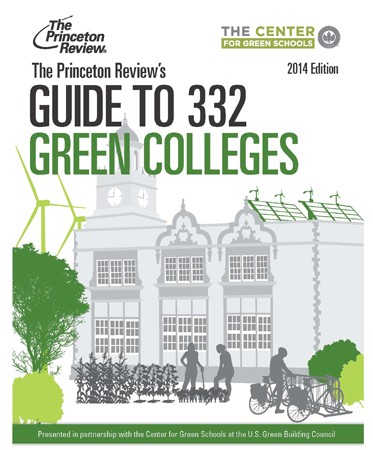 The guide attempts to measure a school's commitment to the environment and to sustainability. Of Johns Hopkins, the guide says:
Lauded as one of the most exceptional research universities in the nation, it's no surprise that Johns Hopkins University has found some innovative ways to improve campus sustainability. The student group, SHIP—the Sustainable Hopkins Infrastructure Program—has helped improve building and operational efficiency in projects ranging from rain gardens to updating all campus light poles to LEDs. The Office of Sustainability hosts a Sustainability Student Leadership Development program, designed to expose students to the context, concepts and connections they need to be effective change agents on campus and beyond. ECO-Reps are recruited each fall to represent residence halls, and help conduct peer outreach and activities within their respective housing facilities. In spring 2014, the Office of Student Activities is launching a JHU "Greeks Going Green" chapter to help encourage the integration of sustainability values and practices within Greek life. In fall 2013, President Daniels made JHU the 19th signatory of the Real Food Pledge: a commitment to source 20 percent of campus food locally and sustainably. Markets on campus offer a variety local, organic, fair trade, gluten free, vegan and vegetarian, and all dining facilities on Homewood campus utilize recyclable or compostable take-out materials. The university has a community-supported agriculture program on two campuses that allow students to buy fresh food from local farmers, and the Johns Hopkins Center for a Livable Future is the birthplace of the "Meatless Monday" campaign taking shape across campuses nationwide. Johns Hopkins can also lay claim to some other notable achievements, like having the largest solar PV installation in Baltimore City and one of the largest green roofs in Maryland. The university also boasts seven LEED-certified buildings, with six more pursuing LEED certification.
The guide, which was first published in 2010, is produced in partnership with the Center for Green Schools at the U.S. Green Building Council.
Schools were selected based on a survey conducted by The Princeton Review in 2013. The survey asked administrators at hundreds of colleges across the U.S. and Canada about their institution's sustainability-related policies, practices, and programs. Using survey data that covered more than 25 fields, The Princeton Review tallied its "Green Ratings" (scores from 60 to 99) for 832 schools and reported them in the school profiles. The 332 schools that received scores of 83 or higher in that assessment were included in the guide. The Princeton Review did not rank the schools, nor does it report their Green Rating scores.