More than 400 hundred fourth-graders visited Johns Hopkins University's Montgomery County campus earlier this month to learn that science can be delicious.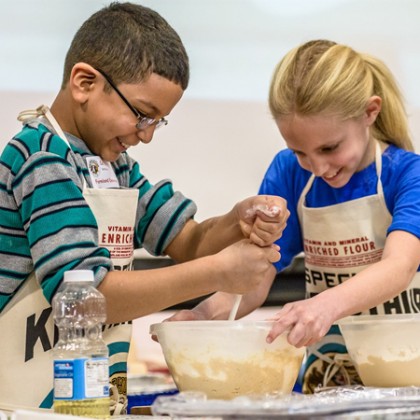 Johns Hopkins University and King Arthur Flour teamed up to teach Montgomery County Public Schools students the chemistry and math involved in baking bread. Through hands-on demonstrations, the children learned that yeast is a living organism, that water needs to be just the right temperature to awaken dormant yeast, and that baking involves a lot of fractions. The students were surprised to learn that bread baking involves centrifugal force (when flipping dough for pizza), water vapor, carbon dioxide, and condensation.
This was third consecutive year that Vermont-based King Arthur Flour brought its program to the university's Montgomery County campus. King Arthur donated enough ingredients for each student to go home and make two loaves of bread—one for the child's family, the other donated to Interfaith Works Food Pantry and the Montgomery County Coalition for the Homeless.
The math and science lessons tie in directly to the students' fourth-grade curriculum on the changing states of matter, giving the students saw real-life, practical applications of the material they are learning in school.
After the baking lesson, students spent more time on campus doing hands-on science with several community and educational organizations. Nurses from Suburban Hospital taught students how to thoroughly wash their hands and prepare a healthy plate of food. Staff and faculty from the Krieger School of Arts and Sciences' Center for Biotechnology Education taught students how to extract DNA from strawberries and how to make raisins dance.