The Johns Hopkins Carey Business School this week released the first issue of Changing Business magazine, a new twice-yearly publication showcasing research projects by members of the school's full-time faculty.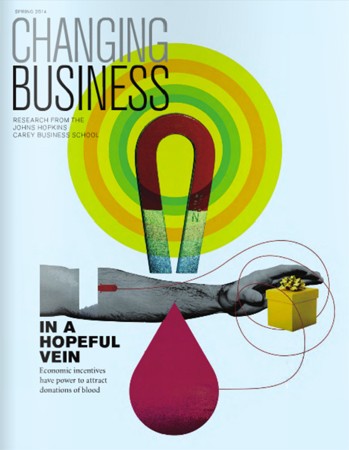 "The projects featured in this issue of Changing Business, and in the issues to come, represent the type of research to which we aspire at Carey," said Bernard T. Ferrari, the dean of the Carey Business School. The magazine's goal, he said, is to make business "more efficient and more effective, while keeping humanity in mind. Our scholars are squarely in the tradition of Johns Hopkins, the first research university in the United States—a tradition of creating knowledge that benefits society."
The four projects featured in the premier issue of Changing Business demonstrate what Ferrari called "the relevant, practical, translatable research" being done by Carey School faculty:
Also included is a section of brief items about research work by other Carey faculty members, as well as an article on the first group of Dean's Research Scholars—five Carey Global MBA students introduced to the rigors of research work.
"It delights me," Ferrari said, "that we continue to build an exceptional roster of scholars at the Carey Business School, and that we are now able to showcase their research regularly in Changing Business."
The premier issue is available in print and can also be read online.