You wouldn't expect to find an article about East Baltimore's new Henderson-Hopkins school on the front page of The New York Times, but that's where Michael Kimmelman's "Reading, Writing, and Renewal (the Urban Kind)" lands in today's edition, right below the fold.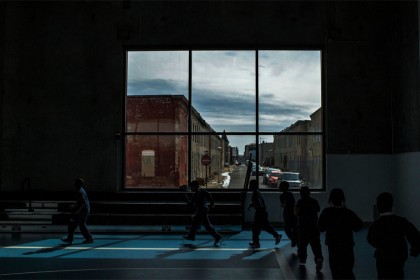 Kimmelman examines the promise of the project, a $43 million facility that is the first new school built in East Baltimore in 20 years. Operated by Johns Hopkins and Morgan State, in collaboration with Baltimore City schools, the school is the centerpiece of a massive urban revitalization effort—"the glue that helps bind the district together," Kimmelman writes.
Kimmelman describes Henderson-Hopkins as a key piece in this "grand urban experiment."
But (as you might expect from The Times' architecture critic) he also spends ample time considering the school's space:
Age groups are divided into separate "houses," or pavilions, with traditional classrooms and also fluid spaces, with openings to the outdoors, allowing teachers to arrange and rearrange groups doing different activities. Each house revolves around a "commons," or meeting room, some with ceilings up to 30 feet high, creating a low-key grandeur. The rooms are bathed in light through towering clerestories that can act like neighborhood beacons.

The spaces are generous and airy, with a quirky palette, cheery, not fancy or nuanced. The building is about openness and respect for the neighborhood. Its facade—made of brick-colored precast concrete paneling—riffs on the vernacular Formstone, or fake-rock stucco, applied to surrounding rowhouses.

Putting a cutting-edge school run by a great university in a historically troubled neighborhood flips the usual urban imbalance of power and changes the status quo of public education steeped in blight. It remains to be seen, of course, how well Henderson-Hopkins fits into the rest of the renewal project, which covers an 88-acre, piano-shaped parcel north of the Johns Hopkins East Baltimore Medical Campus.
It also remains to be seen, Kimmelman concludes, whether the school, and the redevelopment project, will flourish.
"To be successful, architecture depends on what happens in and around it," he writes.
"So does a neighborhood."